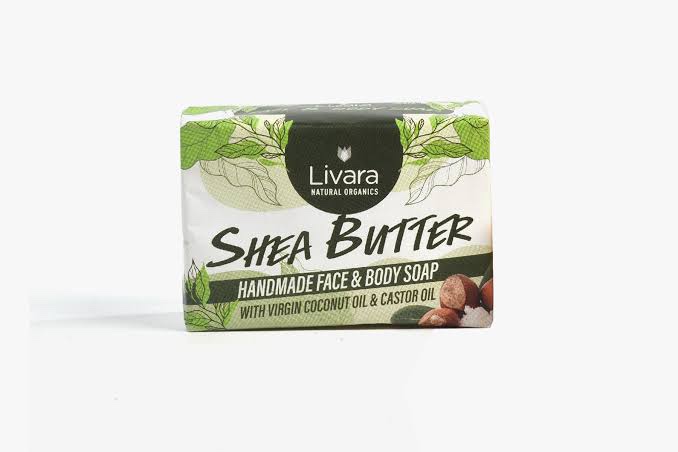 At Livara, we're passionate about crafting natural, organic products that cater to your skin's unique needs. Our Shea Face and Body Soap is no exception, and it's packed with the most nourishing ingredients such as shea butter, virgin coconut oil, and castor oil.
But did you know this soap is more than just a cleansing bar? It's a versatile beauty solution that can solve an array of skincare issues, and it's safe for use for your entire family. In this article, we'll reveal 7 amazing uses you didn't know about our Livara Shea Face and Body Soap and show you how you can incorporate it into your daily routine.
1. Fungal Infection Fighter:
Livara's Shea Face and Body Soap contains castor oil, renowned for its antifungal and germicidal properties. Thanks to its active compounds, including Ricinoleic and Undecylenic acids, it's an effective solution for fungal infections like ringworm and athlete's foot.
What's even better? It works wonders against various skin diseases with effectiveness comparable to anti-fungal drugs.
2. Deep Moisturizer:
You can say goodbye to dry ashy skin with this miracle soap bar. The perfect blend of shea butter, castor oil, and virgin coconut oil in Livara's soap provides deep hydration. Castor oil's viscosity, shea butter's deep-penetrating abilities, and virgin coconut oil's soothing properties work together to balance your skin, leaving it well-nourished and properly hydrated.
3. Spot Treatment Extraordinaire:
Livara's natural organic face and body soap can address various skin concerns. It's your secret weapon against acne, warts, and skin tags. The antimicrobial and anti-inflammatory properties of shea butter, castor oil, and virgin coconut oil come together to resolve these issues with continual use.
Acne, usually caused by an overproduction of sebum and complicated by secondary infections, can benefit from the soap's gentle healing properties.
4. Eczema Relief:
Shea butter, the main component of Livara's soap, is known for its ability to combat eczema. It's packed with emollients, essential fatty acids, antioxidants (like vitamin E), and anti-inflammatory agents (such as vitamin A).
These components work together to alleviate the symptoms that come with eczema, such as itching and discomfort. Rest assured, our soap can effectively make eczema symptoms vanish, making it an excellent choice for those with this skin condition.
5. Shaving Foam:
Livara's Shea Face and Body Soap isn't just your typical soap that dries out upon application. It's a moisturizing soap, enriched with shea butter, castor oil, and virgin coconut oil, making it an excellent shaving foam.
Rub the soap with some water to form a lather and moisten the area you want to shave. Apply the larger then gently shave as usual. Your skin will not only be hair-free but also smooth.
6. Makeup Removal Marvel:
"Oil absorbs oil" is a famous saying, and Livara's Shea Face and Body Soap puts it to good use.
Use the oil-infused soap to remove stubborn makeup, including waterproof mascara. Rub it on your face, especially around your eyes, to break down makeup effectively. It will leave your skin clean and refreshed.
7. Baby Colic Soother:
Our versatile soap isn't just for adults. It can provide relief for babies with colic. Babies often experience uncontrollable crying due to colic, and our soap can offer solace. Applying a moistened soap gently to their abdominal area and indulging them in a warm bath using the soap can provide quick relief and help them sleep soundly.
While the exact mechanism isn't clear, it's likely the soporific effects of the oils at work.
Bottomline
Livara's Shea Face and Body Soap is not your average cleansing bar. It's a multipurpose beauty solution designed to address a range of skin concerns, from fungal infections to dry skin and even makeup removal. Visit our website shop and grab yourself a bar today. Your skin will thank you for it!