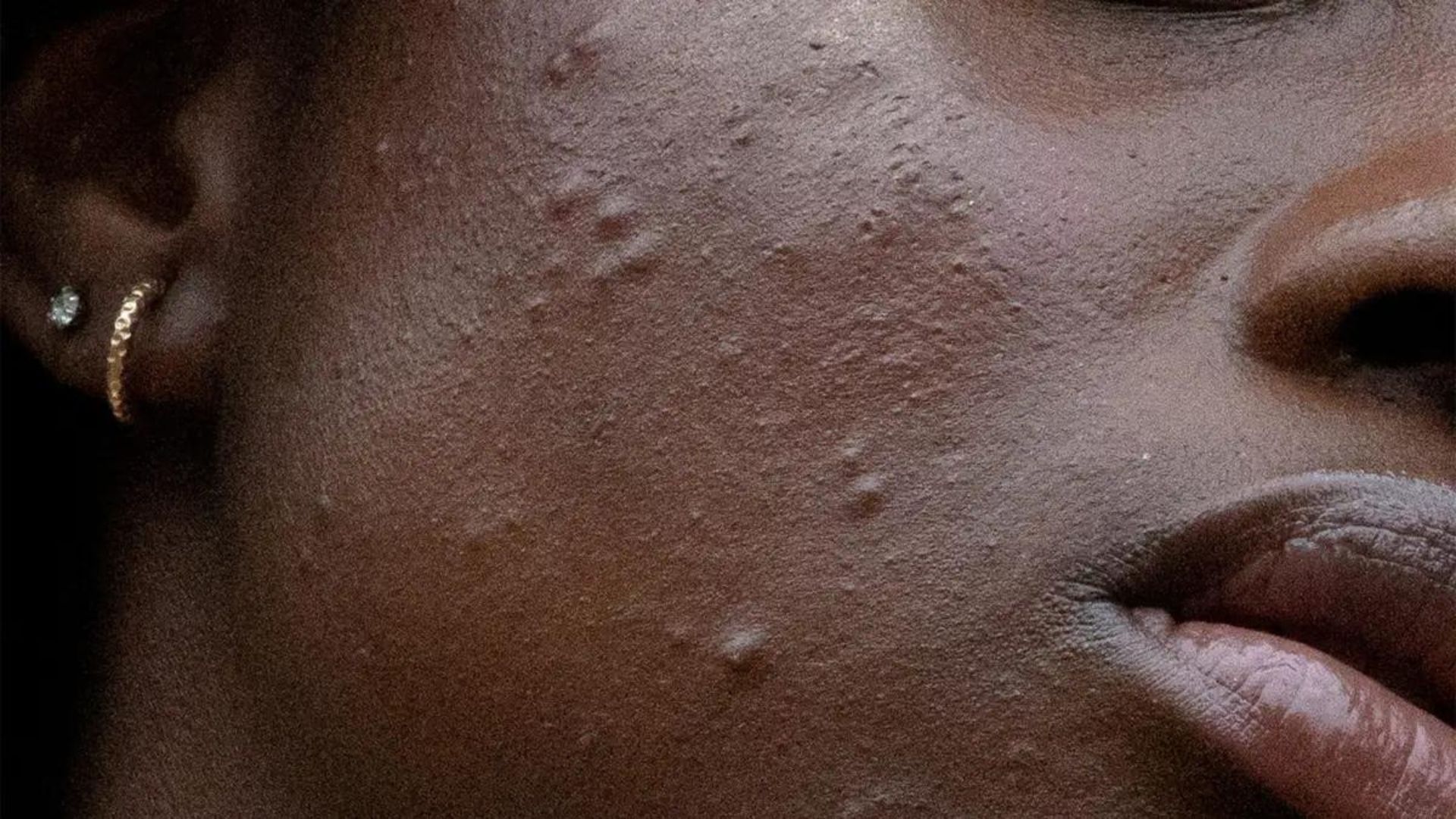 Acne, medically known as acne vulgaris, is a skin condition that affects most people at some point in their lives. Its characterized by pimples, blackheads, whiteheads, and other types of blemishes that appear on the skin.
While acne is most commonly associated with teenagers going through puberty, it can also affect adults of all ages. In this article, we'll discuss the different types of acne that exist, the general causes of acne, and provide some general tips for dealing with acne.
How does acne form?
Before we can talk about the different types that exist, it's important to know how the condition itself comes about.
Your pores are related to glands beneath your skin that produce sebum, an oily substance. A channel known as a follicle connects the glands and pores, and it has a fine hair that extends to the skin's surface.
In the follicle, a plug is created when sebum and dead skin cells collect together. Acne pimples then come as a result of inflammation caused by bacteria in the plug.
What causes acne?
According to Healthline, there are no exact causes of acne, but these factors can trigger the condition or make it worse:
hormonal changes, such as puberty, pregnancy, and the menstrual cycle
squeezing or picking at existing pimples
cleaning or scrubbing your skin too vigorously
pressure, such as from collars, hats, helmets, and backpack straps
high humidity
cosmetics, such oil-based products, sunscreen, and hair products
medications, such as corticosteroids and anabolic steroids
According to the National Institute of Arthritis and Musculoskeletal and Skin Diseases, common beliefs that suggest stress and dirty skin cause acne aren't true.
Also, greasy foods and chocolate don't cause acne in the majority of people.
Different types of acne
Whiteheads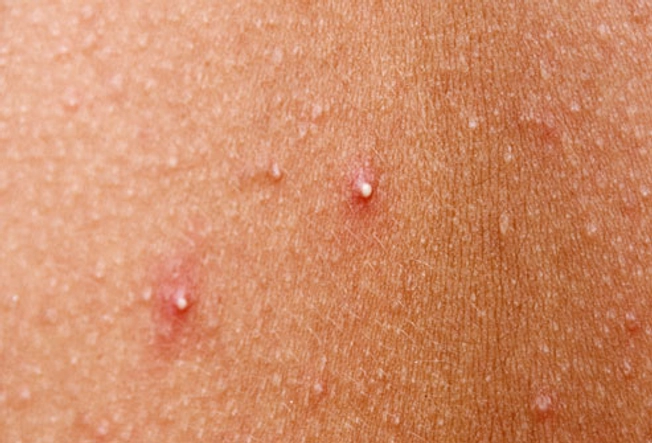 These appear as small white bumps on the skin and are caused by hair follicles being clogged with dead skin cells and oil.
Blackheads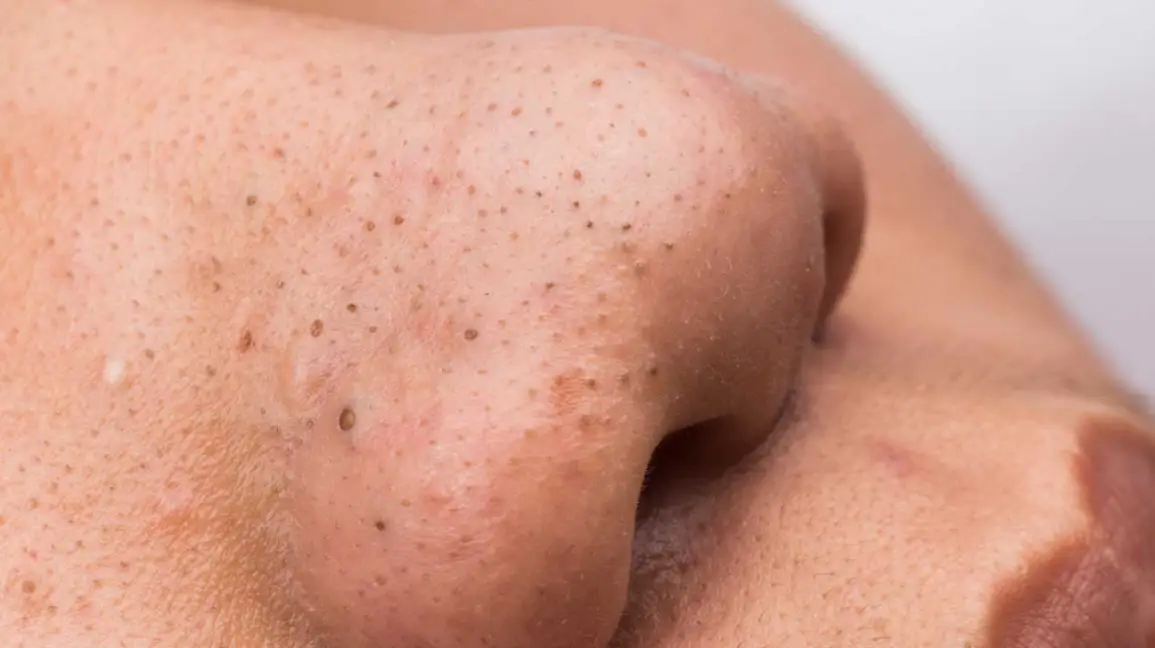 These appear as small black or dark brown spots on the skin and are caused by the same thing as whiteheads, but the follicle opening stays open, allowing the contents to oxidize and darken.
Papules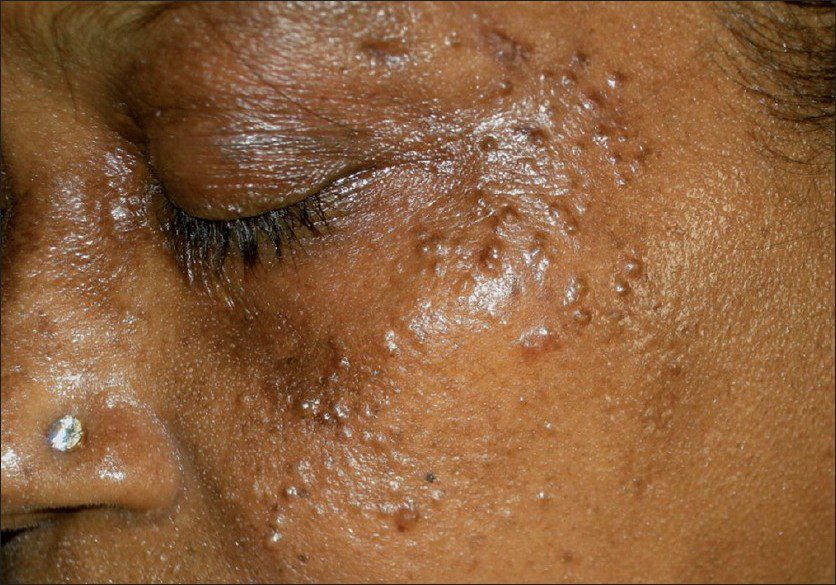 Acne papules are firm, inflammatory, and typically cone-shaped pimples on your skin (conical). They don't have a tip that is packed with white or yellow pus.
Pustules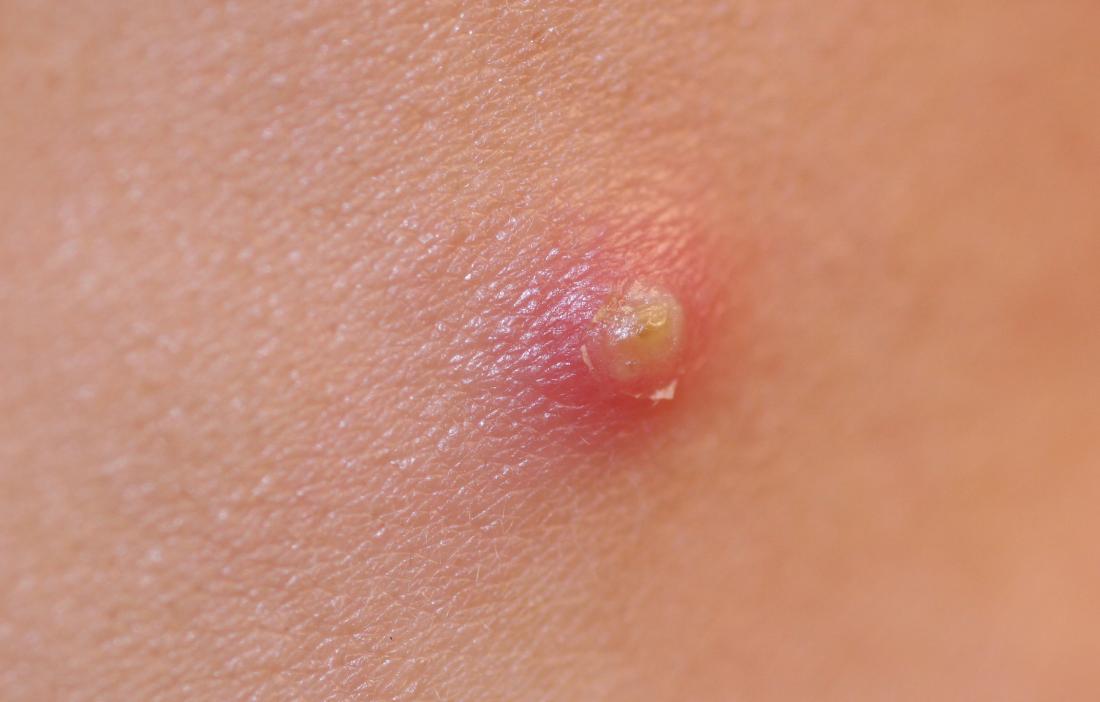 These are similar to papules, but have a white or yellow pus-filled center. They can be painful and leave scars.
Nodules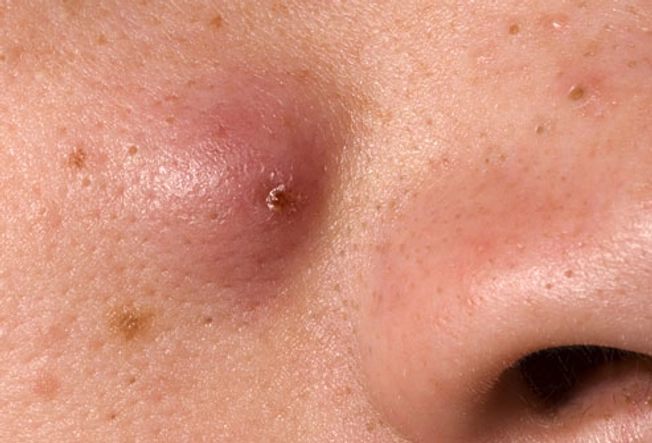 These are large, painful bumps that form beneath the surface of the skin. Acne nodules can last for weeks or months.
Cysts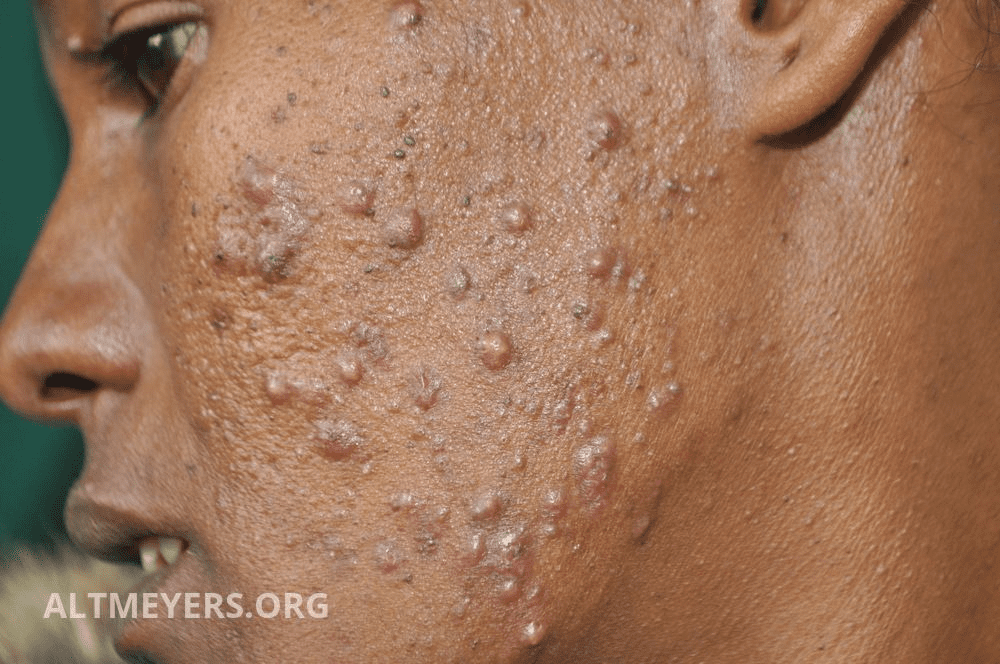 Cystic acne is the most severe type of acne that causes large, inflamed, and painful lesions on the skin.
While acne can affect everyone, persons with oily skin are more likely to experience cystic acne. Hormonal imbalances also increase the likelihood of it in teens, women, and older adults.
Extreme cases
A severe form of inflammatory acne known as nodulocystic acne is characterized by the development of nodules and cysts. Because it causes issues deep within the skin, nodular acne is considered a more severe form of acne.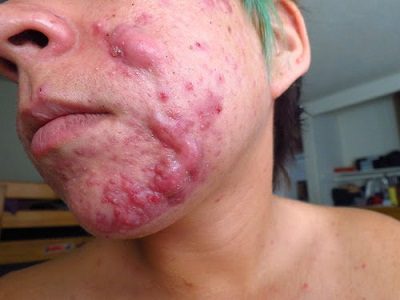 The rare yet severe variant of nodulocystic acne known as acne conglobata (AC). It typically manifests as painful, disfiguring, double or triple interconnecting comedones, cysts, inflammatory nodules, and deep burrowing abscesses on the face, shoulders, back, chest, upper arms, buttocks, and thighs.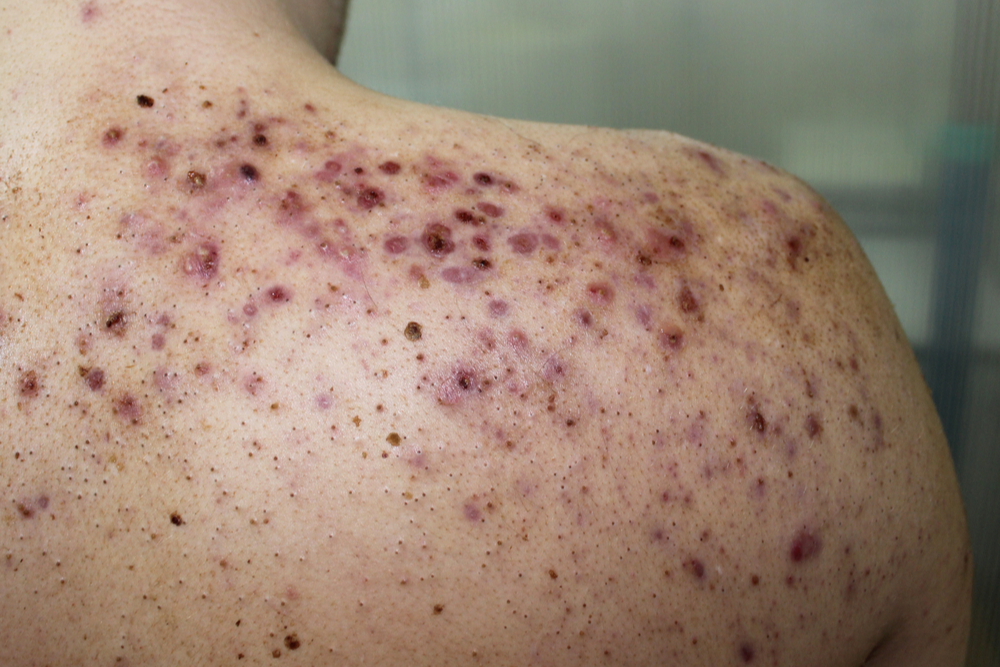 General tips for dealing with acne
You can adopt a variety of self-care measures to aid in acne management or to aid in the healing of acne. Here are some tips to help:
Keep your face clean: Wash your face twice a day with lukewarm water and a gentle cleanser like our Pearl Facial Cleanser. Washing more often than twice daily is not necessarily better; it may do more harm than good.
Moisturize: Moisturizing is essential since a number of acne products contain ingredients that can dry the skin. Use a non-comedogenic(a product contains ingredients that won't clog or block the pores on your skin) moisturizer that's made for your skin type.
Avoid squeezing or picking at blemishes: Squeezing could increase swelling and redness because it might force bacteria and pus further into the skin. It may also result in scabs as well as pits or scars that are difficult to get rid of.
Use makeup sparingly: If you're dealing with a breakout, avoid wearing foundation, powder, or blush. If you do wear makeup, make sure to wash it off at the end of the day.
Keep your hands off your face: Touching it can spread bacteria and possibly irritate the already inflamed facial skin.
Maintain a healthy diet: While many experts agree that certain foods, like chocolate, don't cause pimples, a diet high in dairy products and foods high in processed sugar may trigger or make acne worse. Avoid these. and replace them with whole grains, fresh fruits and vegetables.
Takeaway
Dealing in acne can be difficult, but with the right knowledge and treatments, you can get rid of it.
The tips mentioned above can be helpful, however, it's best to speak with a dermatologist. Seek the advise of a qualified dermatologist, especially if you're dealing with a more severe type of acne.
And remember, whether or not you have acne, you are a GEM.