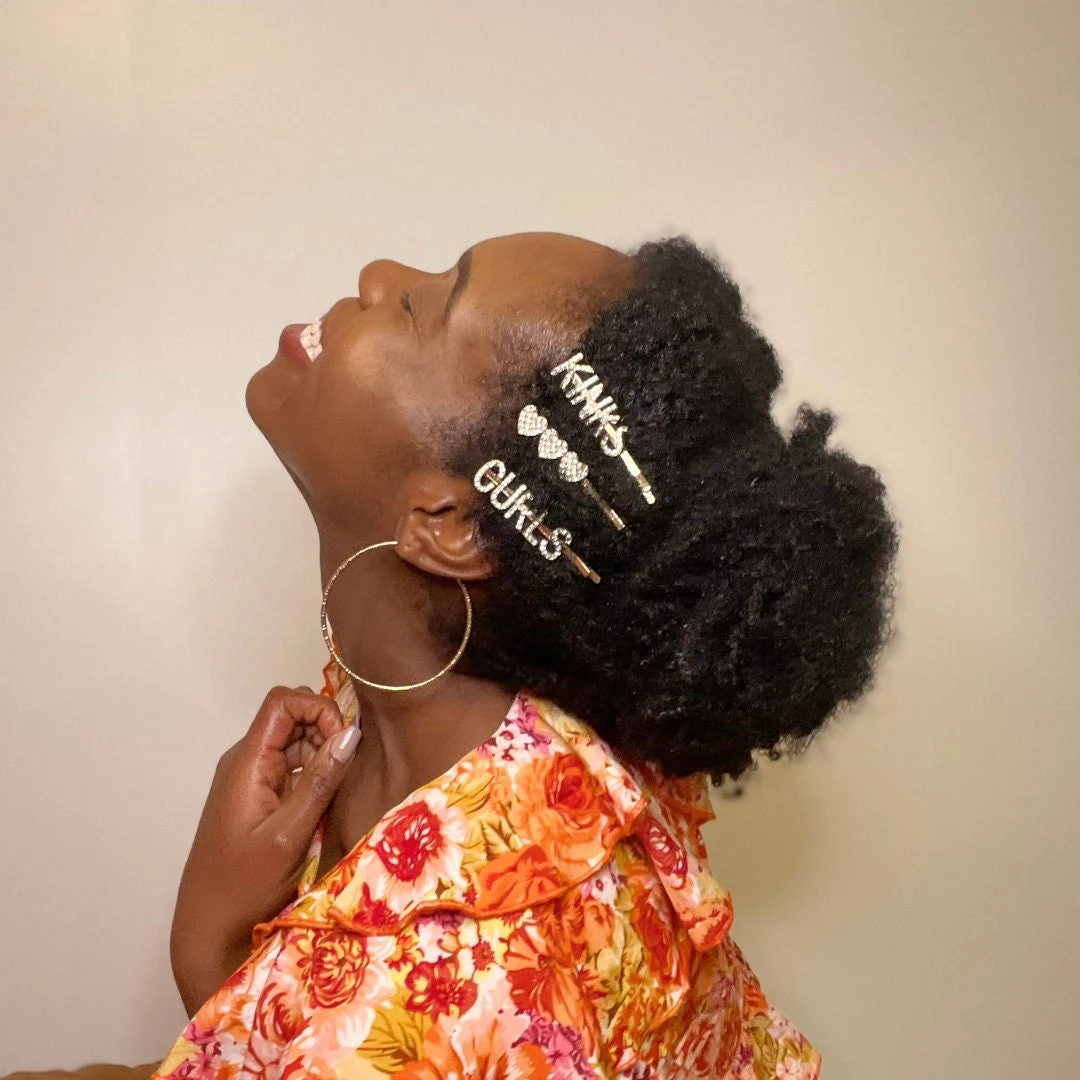 When it comes to accessorizing your natural hair, the possibilities are virtually endless. You can choose to express yourself in a variety of ways, from clips and bows to headbands and scarves.
Hair accessories can be used to create unique looks and add a little flair to everyday styles. Additionally, you can use styling products such as hair gels to define your curls and provide structure and shine. With the right accessories, you can enhance and customize your natural hair look to meet your individual needs and preferences.
Scrunchies
In case you're wondering, scrunchies are just elastic hair ties that have been covered with a fabric like silk or satin. They're available in a number of different colors, designs and sizes. We love scrunchies because unlike some other hair ties, they don't cause any hair breakage and they don't have to be wound as tightly around your hair. What's more, you can wear scrunchies in your hair for just any occasion and they can make many different hairstyles.
Coloured bobby pins
Bobby pins are a great option for styling your natural hair. When you have them in colors like yellow, blue, green and white, they'll most definitely make your hair pop. They come in a variety of sizes and shapes, so you can find one that works for your hair type and length. 
Claw clips
Claw clips are back and they're probably the best low maintenance hair styling trend at the moment. These clips gently keep your hair in place without tugging at any of your strands. Claw clips can work great for long thick curly hair, and can make a perfectly secure hairstyle for any occasion.
Silk scarves
Keeping your hairstyle in a silk scarf can keep it intact, in addition to keeping your hair moisturized and free from tangles. With all the different ways to style it, a silk scarf will inevitably make you stand out from the crowd.
Bedazzled hair pins
Embellished with beautiful rhinestones, these stunning pins are the perfect addition to your hairstyle. These bedazzled pins often come with different words to represent your set, vibe or even season. Make a bold hair statement with these unique hair pins.
Satin/Silk headbands
Stylish and versatile, these headbands are a great lightweight option for styling your hair. Wearing a satin or silk headband is also a great way to protect hairstyles like pineapple updos that keep hair out of your face. There also exist satin scrunchie headbands we're sure you'd love.
These are only a few of all the great accessories you could use to style your hair: let us know any other accessories that work great for your hair in the comments below!