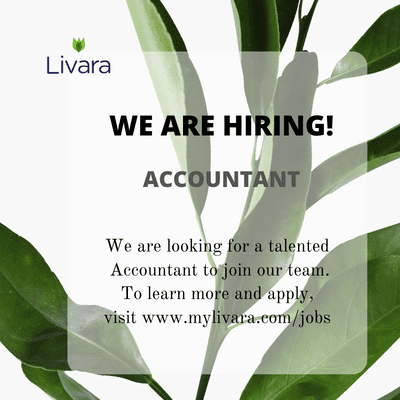 Looking to continue a career in Accounting? Like learning about new things? Have an interest in professional growth and development? Consider our Company Accountant role here at Livara!

The Company Accountant focuses on accounting and administrative processing. Duties include project accounting, accounts receivable and accounts payable. A primary attribute to this position is having a servant's heart and supporting the entire Livara team.
As one of the most crucial roles not just of any finance team, but any company, the Accountant job description is a dynamic role with a multitude of responsibilities, including:
Roles and Responsibilities
Full scope of financial management in our ERP (Manager IO) for business unit specific contracts: booking, committed costs, revenue recognition, cash flow and timely close out of projects
Examining bank statements and reconciling them with general ledger entries
Examining expenses submitted by employees
Keeping an eye on incoming payments from accounts receivable and outgoing payments from accounts payable. All financial data must be comprehensively compiled.
Creating company management and financial reports with the above information included
Analysing data collected in order to determine the state of the company's financial health
Analysing data to understand where the company is generating and losing revenue
Examining the proficiency of the software programs used to organise data
Generating financial reports that display the company's profit and loss statements, balance sheets, equity and cash flow statements, and others.
Complying with all company, local, national and regional accounting and financial regulations.
Presenting data to managers, investors, and other entities.
Maintaining accurate financial records.
Performing audits and resolving discrepancies.
Timely computing and filing of taxes.
Keeping informed about current legislation relating to finance and accounting.
Assisting management in the decision-making process by preparing budgets and financial forecasts.
Manage working capital through oversight of accounts payable and accounts receivable functions for savings, credit and risk mitigation including reconcile variances in cash applications.
Process and clear invoices against accounts or overhead as appropriate, resolving all discrepancies.
Track key performance indicators and partner with different managers to reach departmental and overall company goals.
Identify opportunities for process improvement, develop and implement solutions.
Preferred Skills & Qualifications:
A Bachelor's degree in Finance or Accounting highly preferred, or any other related field. Business degree at minimum.
Demonstrate practical experience with ERP word processing, spreadsheets, and accounting software and a working knowledge of Microsoft Office products especially Excel.
Excellent understanding of accounting rules and procedures including the Generally Accepted Accounting Principles (GAAP)
Ability to work independently
Ability to apply analytical and interpretive skills to problem solving
Excellent written and verbal communication skills and strong organizational skills
Self-motivated to work independently and balance workload assignments within time constraints
General understanding of URA Tax compliance
Proven leadership– demonstrate positive and infectious attitude, mutual respect, motivate and promote overall teamwork. Communicates in positive, respectful manner.
Work independently, take initiative, set priorities, and see projects through to completion autonomously
Ability to pay attention to detail is of particular importance for this role.
Job Specifications
Job Type:
Full-time
Pay:
Very Competitive
Schedule:
Monday to Friday. Saturday when required.
Location:
Livara, Bugolobi. Plot 8 Bandali Close
Others:
GAAP: 1 year (Preferred)
General ledger reconciliation: 1 year (Preferred)
A/P/R: 1 year (Preferred)
Account reconciliation in a manufacturing and busy retail company: 1 year (Preferred)
Expense management: 1 year
In addition to exciting work at a growing company, we offer the following benefits:
Health Insurance
Vacation/Holiday Pay
Tuition cover for necessary technical courses required by the company
Flexible Work Schedules
Volunteer Work
Remuneration
The remuneration for this position is competitive as per the Ugandan Market.
Application Deadline
Submit a soft copy of your application to care@mylivara.com by 15th November 2022. The application should have the title Application for Accountant Vacancy.
About Livara Natural Organics
Livara Natural Organics is Uganda's leading manufacturer of natural and organic haircare and skincare products with special emphasis on the person with African origin.
Our mission is to bring equity in the cosmetics industry by providing authentically natural and organic solutions proven through centuries of use in Africa.
We celebrate African skin and hair and we enrich our communities.
We retail our products through our retail stores and exceptional family salons in Kampala and Mbarara and we take great pride in providing exceptional service and flexibility to our customers.