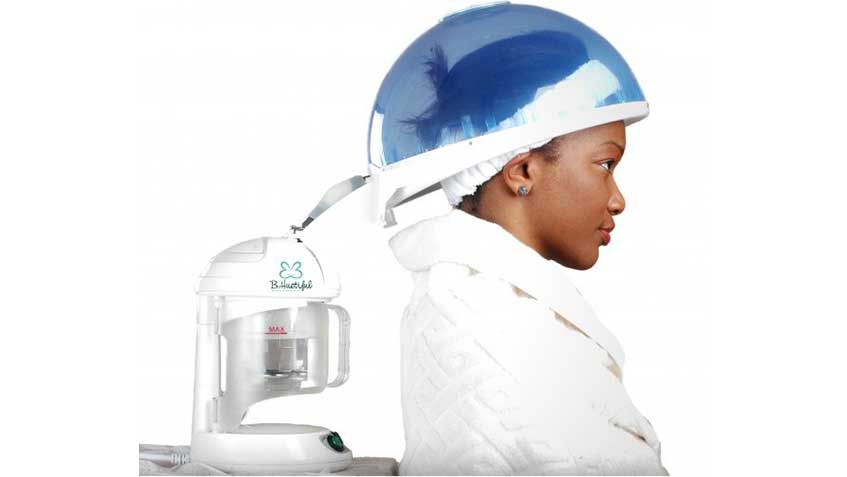 If you're looking for an easy, effective way to revive your hair, look no further than the power of steam. Steam treatments are becoming increasingly popular and it's easy to see why: they're a great way to boost the health of your strands without using harsh chemicals or other artificial ingredients.
With a steam treatment, you can add life and shine back into your hair in just minutes! The heat from the steam helps to open up the cuticle on the outer layer of each strand and allows for moisture to penetrate deeply into the hair. This, in turn, helps to strengthen your hair and improve its elasticity.
Additionally, a steam treatment is also excellent for removing product buildup, which can cause brittle hair. It's also great for providing deep conditioning and nourishment that your hair needs—especially if you have dry or damaged locks.
So if you're looking for ways to revive dull tresses or just want to give your mane some extra love and care, read on to learn more about what steam treatments can do for natural hair.
What Is a Steam Treatment for Natural Hair?
A steam treatment is basically using the power of steam to open up the hair follicles and allow deep penetration of oils, nutrients and other conditioning ingredients straight into your strands.
This often results in stronger, softer, more manageable hair–and it can help to undo some of the damage from styling treatments like heat or color-treating.
Benefits of Steam Treatments for Natural Hair
You may have heard of steam treatments for natural hair, but do you know all the amazing benefits they offer?
If you're ready to give your curls a well-deserved moisture boost, look no further than introducing a steam treatment into your hair care routine. Here are some of the most noteworthy benefits:
Increased moisture retention: Steam treatments open up the cuticles of your hair so that products penetrate deeper and retain more moisture for longer. If you've got low porosity hair, this could be great for you. This also results in healthier locks that are well equipped against breakage.
Faster styling time: Since the treatment leaves you with softer locks, it becomes much easier to detangle your curls and style them in the way that you desire. Not only will this save you time, it will also help minimize damage since it requires less brushing or combing.
Reduced frizz: The heat and humidity from the steam give you smooth strands that can stay put no matter the conditions around you.
In short, steam treatments are an effective way to revive your curls with the hydration they some much-needed hydration!
Preparing for a Steam Treatment
If you've never done a steam treatment before, there are a few things you need to know before you get started. Here's what you'll need to prepare: a microfiber towel or shower cap, hair conditioner and a wide toothed comb.
Once everything is set, it's time to get ready for the treatment. Start by detangling your hair with the brush/comb and then sectioning it off into four equal parts. Then apply conditioner to each section and cover with the microfiber towel (or shower cap). This will help protect against heat damage while promoting absorption of the oil. And that's it – you're ready!
What Do You Use To Steam Your Hair?
Steaming treatments are usually done using hair steamers. Hair steamers can vary from the traditional hair steamers to steamer caps and even hand handheld hair steamers.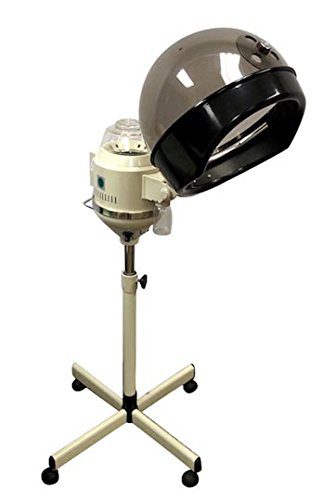 You can choose from any of these depending on the space you have available for it and other factors of course. The floor standing ones with a hard hooded dome are probably the most space consuming, and are what you'll find in most salons. The steamer caps can be a more portable option on the other hand.
Home Steam Treatment
You can steam your hair from home by using a hot cloth. Start by applying some conditioner to your hair and smoothing it through your strands. Cover your hair with a plastic cap afterwards.
Second, get a hold of a face cloth and wet it under a sink. Wring out all the water and make sure there's no water dripping from it. Place it in a microwave oven at the highest temperature setting for about two minutes. Place it over the plastic cap.
You can use gloves to transfer it to your cap to avoid getting hurt. Go on to cover it with another plastic cap to prevent the heat from escaping. This also encourages the steam to form.
If this sounds like too much work for you, you can always have your hair steamed at a hair salon with the professional tools for it.
How Long Should You Have Your Hair In A Steam Treatment?
Anything between 20-30 minutes is okay for your hair. Avoid staying too long with your exposed to steam as this can instead damage your hair. 
When it comes to how often you should do it, this can vary from person to person depending on their individual hair needs. The general rule of thumb is to go easy on your hair and limit the treatment to once or twice a month.
Products to Use With A Steam Treatment
You can get even more out of your steam treatment when you use our Tsavorite Anti-Snap Hair Treatment! This product helps to maintain your hair health on a deeper level. It contains a blend of natural essential oils and ingredients for nourishment and hydration.
So why not give our Tsavorite Anti-Snap Hair Treatment a try during your next steam treatment? Not only will it help to nourish your scalp and promote optimal hair health – but you'll also love how vibrant and beautiful your locks look afterward!
Conclusion
Whether you're a natural hair enthusiast or a complete newbie, steam treatments are a great way to improve your natural tresses. Not only do steam treatments help to maintain your hair's health and manageability, they also make styling your hair easier and ensure your locks look healthier and shinier.