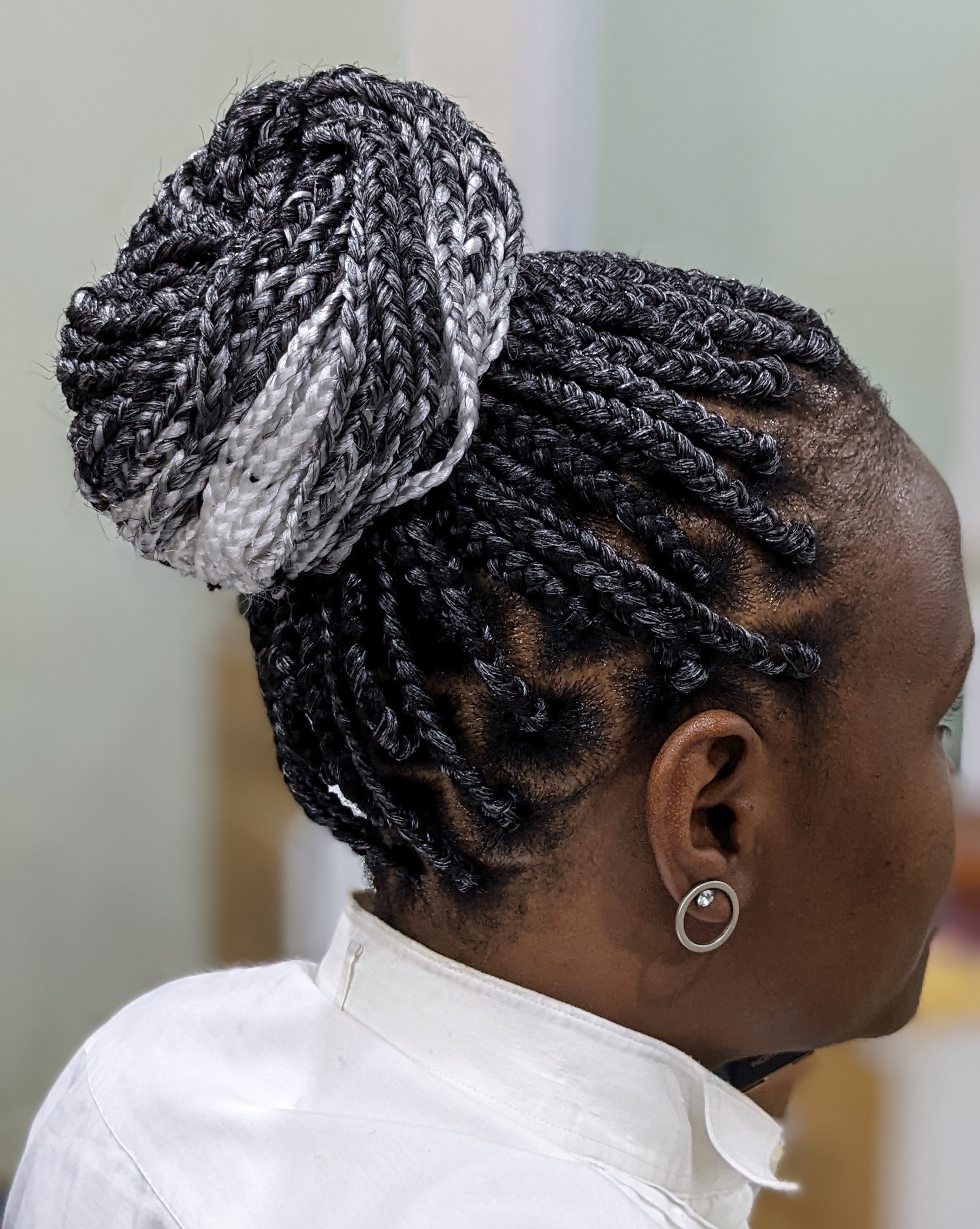 Protective hair styles can be such a life saver for hair that's more prone to shrinkage, tangles and damage. Other than being low maintenance, another great thing about them is probably how significantly they reduce the manipulation your hair usually goes through. Your curls can catch a break from styling tools like combs, brushes and blow dryers when they're in a protective style.
If you want to have them in for a couple of weeks or so without them looking frizzy, here's some tips you can keep in mind:
1. Go to a trusted hairstylist
If you want your protective style to stay in for a long time, it's best that you get it done by a someone who knows what they're doing. When it comes to protective styles, it really just comes down to technique.
Make sure your stylist plaits your braids or twists neat and tight enough not to cause damage. If you're looking for someone you can trust, look no further than our Livara hairstylists. Come by any of our family salons and let us fix you up in the best way!
2. Protect your hair before you sleep
While this may seem like a no-brainer for most naturals, covering your hair with a satin bonnet or silk scarf before you sleep is key if you want your protective style looking its best. This will cut down on potential frizz and keep your style perfectly intact.
3. Moisturize, moisturize, moisturize
Moisturizing your scalp can keep the itchiness that usually comes with installing a protective style at bay. Your protective style looks a whole lot neater if you're not scratching your scalp every other second.
Since you want to keep your style neat, it's best to moisturize in a low manipulative way. Opt for a spray bottle moisturizer to moisturize your hair with little or no manipulation. Be sure to apply a good natural oil afterwards to seal in that moisture.
4. Limit washing between styling
It's a great thing to cleanse your scalp every once in a while when you've got in your protective style. This can help remove the buildup of products on your scalp and prevent flaking.
However, what you don't want to do is wash your hair every other day. Limit cleansing to at least once every three weeks and when you do, focus on cleansing your scalp more than anything.
5. Don't wear your hair up all the time
We can all agree that keeping your hair out of your face by holding it up can be pretty convenient. But if you've got a braided style like box braids or a loc hairstyle, having your hair held up like this all the time can cause your air to loosen at the roots, changing the appearance of your style over time.
Up hairdos can also be taxing on your hairline with time. It's best to style your hair gently and limit up hairdos to a few times a week.
6. Re-do the perimeter if needed
You may find that the perimeter of your protective style (your front line and back) gets old faster than the other parts. This especially goes for styles like braids and twists.
If you want to have your protective style in for a longer time, you can ask your hairstylist to redo the perimeter of your hairline instead of re-doing your whole head. Retouching your hair this way every four weeks or so can help you maintain a fresher look.
There you have it, six amazing tips to help you have you want to have your protective style stay in for a longer time. You can have your style looking nice and neat for a whole 6-8 weeks if you follow these tips.
Let us know which of these tips work best for you in the comments below! And don't forget, you're a GEM.