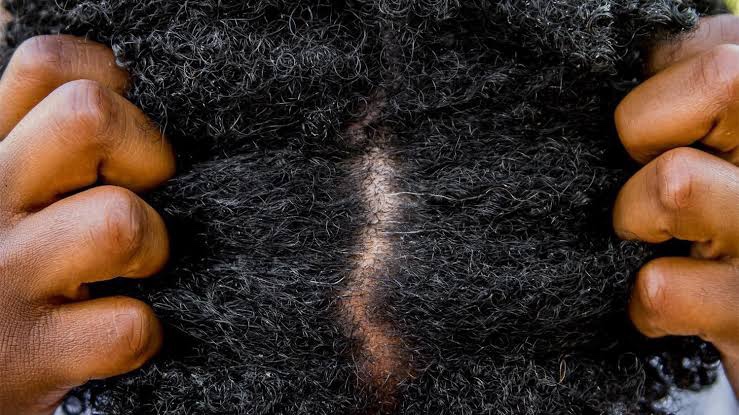 A chronic but irritating issue many people suffer from is an itchy scalp. Whether it's from scalp dryness, dandruff or other factors, it's a condition many of us have experienced at some point. It's worth noting that there are efficient means of easing the pain as well as preventing it in advance. In this comprehensive guide, we'll be looking into different approaches and techniques that will lead you towards an itch free and healthy scalp.
Understanding the Causes
It's wise to find out what could be making that itching persist before we delve into the solutions. Here are some of the common culprits:

1. Dry Scalp
Scalp dryness is one of the cause of flaking and itching of scalp. This can occur due to a general lack of moisture supply to your scalp, using shampoos and other hair cleansers that rid the scalp of its natural oil, or even harsh weather conditions.
2. Dandruff
Probably the most common cause of itching, dandruff is a scalp condition that's accompanied by white flakes on the scalp.
---
What Causes Dandruff?
Dandruff can be caused by various factors, including:
1. Yeast Overgrowth: Dandruff is usually caused by an excess growth of the yeast-like fungus called Malassezia which naturally resides on the scalp. Malassezia dines on the natural oils that are produced by the scalp, and its byproducts can cause skin irritation, leading to flaking and itching.
---
If you're wondering what causes an overgrowth of malasezzia in the first place, here are some factors to consider:
Excess Sebum Production: When there is an excessive production of sebum (the natural oil produced by skin), it offers an abundant food source for Malassezia, promoting its overgrowth.
Hormonal Changes: An increase in androgens (male hormones), can lead to the overproduction of sebum on your scalp. This can occur during puberty, pregnancy, or some medical conditions. Factors ljke stress can affect sebum production, making the scalp more prone to Malassezia overgrowth.
Oily Scalp: People with naturally oilier scalps are more susceptible to the overgrowth of the fungus. This can attributed to factors like genetics.
Weather Conditions: Hot and humid weather can increase sweating and sebum production, providing a suitable environment for Malassezia to thrive.
Hair Care Products: Hair care products, that contain heavy oils or harsh ingredients that irritate the scalp and promote Malassezia overgrowth.
Infrequent Hair Washing: Not washing your hair regularly can lead to the accumulation of sebum and dead skin cells on the scalp, providing the perfect conditions for Malassezia to multipy.
Nevertheless, it should be noted that Malassezia is a natural part of the skin's microbiome, and it's presence on the scalp is very normal. Symptoms like dandruff only occur when there's an overgrowth of the fungus. If you exprience persistent issues with dandruff, it may be best to comsult a dermatologist for proper diagnosis and specialized treatment.
---
2. Seborrheic Dermatitis: Dandruff can also be very severe and present with red and oily scales, commonly known as seborrhoeic dermatitis. This could be due to excessive skin oil production.
3. Dry Skin: Flaking and itching can be caused by dry skin on the scalp resulting from very dry or cold weather conditions.
4. Improper Hair Care: Dandruff may come as a result of not shampooing often enough or using the wrong kind of shampoo, for example one with harsh sulfates. These can cause irritation and flaking of the scalp.
5. Sensitivity to Hair Products
Some hair products may trigger scalp irritation, resulting in an overproduction of sebum, creating an ideal environment for development of dandruff.
6. Medical Conditions
Some skin conditions may be characterized with dandruff as a symptom, such as eczema and psoriasis.
Therefore, the main cause that leads to dandruff must be identified so that it can be treated appropriately. Many times just switching to a new medicated dandruff shampoo is all that may be needed to get rid of all signs and symptoms.
---
3. Dermatitis
Some of these situations are scalp dermatitis such as seborrheic dermatitis or contact dermatitis that results into redness, itching, and flaking.
4. Allergies
Scalp irritation may result due to allergic reaction to particular hair care products or substances that irritated the scalps.
Soothing an Itchy Scalp
Now that you have a better understanding of what might be causing your itchy scalp, let's explore some effective ways to soothe it:
1. Natural Oils
a. Aloe Vera: Applying aloe vera gel on the scalp can be effective in reducing itching and inflammation.
b. Tea Tree Oil: It is a natural fungicide that can be mixed into a carrier oil and softly rubbed into the head.
c. Peppermint oil: It contains menthol which has a cooling and numbing effect that can provide relief from itching. Make sure to dilute it with a carrier oil to prevent skin irritation. O
Our Tanzanite Hair Oil is a natural effective solution for anyone looking to combat itchiness. It's infused with peppermint oil and other carrier oils to effectively soothe itching.
2. Over-the-counter medical shampoos
Look for shampoos containing ingredients like salicylic acid, zinc pyrithione or ketoconazole.
Preventing an Itchy Scalp
It is usually better to prevent things than have to cure them. Here are some steps you can take to prevent an itchy scalp:
1. Proper Scalp Hygiene
Here's how you can keep your scalp clean and healthy:
a. Regular Hair Washing: Wash your hair every 1-3 weeks with a sulfate free shampoo like our Sapphire Hair Shampoo.
b. Avoid Hot Water: Instead of hot water, use lukewarm water because hot water strips the scalp of its natural oil.
2. Moisturize your scalp
Ensure to moisturize your scalp with a water based moisturizer like our Tsavorite Spritz Spray Moisturizer, or spray some water followed by oil to your scalp. This will prevent it from drying out and itching.
3. Keep away from tight hairstyles and excessive heat styling.
Scalp itching can be caused by tight hairstyles. Ensure to have your hair installed not to tight, and refrain from holding your hair too tight. Another thing is that too much heat styling may dry out your hair and scalp, possibly resulting in itching. Opt for heatless styling techniques like using flexi rods.
4 Choose the Right Hair Care Products
Selecting quality products for taking care of your hair greatly influences the condition of your scalp. Here's how to select the right ones:
1. Read Product Labels
Pay attention to the labels in haircare products.Ensure you settle for a shampoo and conditioner that does not contain any type of sulfates or synthetic fragrances. They are gentler on the scalp.
2. Patch Test New Products
Conducting a patch test is advisable before entirely using a new product. Add a little of it on a hidden part of your head and if you suffer no side-effects, you can go ahead and use it.
3. Use Products With Natural Ingredients
When it comes to scalp care, natural is always best. Use products that contain natural oils and ingredients like our Livara hair products. Enjoy the best for your hair with products like our Tanzanite Hair Oil, Sapphire Hair Shampoo.
Seeking Professional Help
In case your itching scalp persists, or occurs together with some worrying symptoms, then you need to visit a doctor. Dermatologists can help to diagnose the problem and recommend suitable treatments for any hidden and related conditions.
Bottomline
An itchy scalp can be a very uncomfortable condition; however, you can ease and keep it away. Ensure you check on what exactly causes itchiness in your scalp, maintain good scalp hygiene, use appropriate hair products, and consult a professional if need be.
Don't let an itchy scalp rob your peace, because you are a gem,