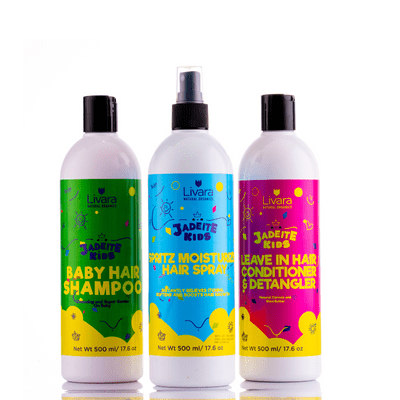 From the time a child is born, there are significant changes in the appearance and texture of their hair up until they develop the type of hair that they'll have for the rest of their life. Their hair may be getting longer and denser as they keep growing, and you may not be sure what kind of products you should use to manage their hair. Livara's got you.
Our kid-specific Jadeite haircare range is full of natural, lightweight products that are perfect for your child's hair. Not only do they stay nourished and healthy, but they'll be looking and feeling great too. 
Jadeite Kids Baby Hair Shampoo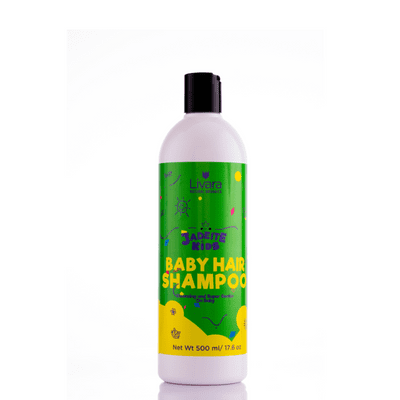 Our Jadeite Kids Baby Shampoo is the perfect solution for your child's hair health! So why choose our kids shampoo?
The organic, sulfate-free, shea butter-and guava leaf-infused formula cleanses the scalp of all buildup, leaving it feeling clean and refreshed. It's moisture-rich to hydrate hair, reduces frizz and helps restore softness, plus it's safe and gentle for all ages. Get that healthy shine you've been looking for- give Jadeite Kids Baby Shampoo a try!
Jadeite Kid's Spritz Moisturizing Hair Spray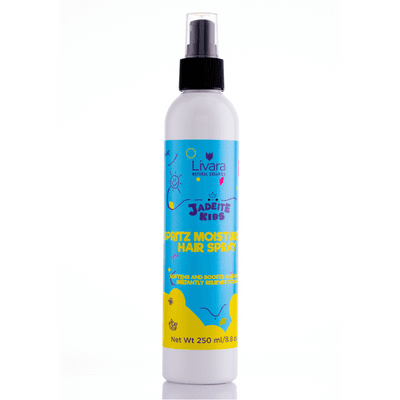 Looking for something to effectively protect your child's hair from dryness and breakage? Look no further than our Jadeite Kid's Spritz Moisturizing Hair Spray. This hydration and growth spray can be a good alternative to thick butters, and what's more is that you can use it to restore moisture and shine to hair that has gotten dry over time.
Additionally, you can keep your kid's hairstyles such as twists beautiful and nourished with the Jadeite Kids Spritz Moisturizing Hair Spray. Its lightweight formula is easy to use and perfect for on-the-go maintenance.
Jadeite Kid's Leave-In Hair Conditioner and Detangler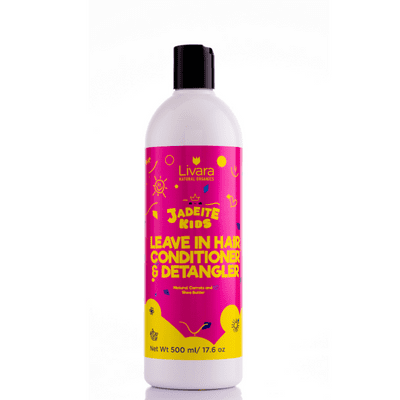 For a tear-free finish to your child's wash day, opt for our Jadeite leave-in conditioner. The conditioning detangler works for natural, texturized and relaxed hair.It serves as an excellent way to soften the hair, tame any tangles and significantly ease combing.
Our leave-in hair conditioner and detangler is specially made with a carrot extract which is great for boosting your child's hair growth, as well as shielding it from damage.
These products work great for kids right from the age of 3 weeks up until the time they become adults. Make these products a part of your child's natural hair routine to keep it feeling soft and looking vibrant every single day. And don't forget…you are a gem.