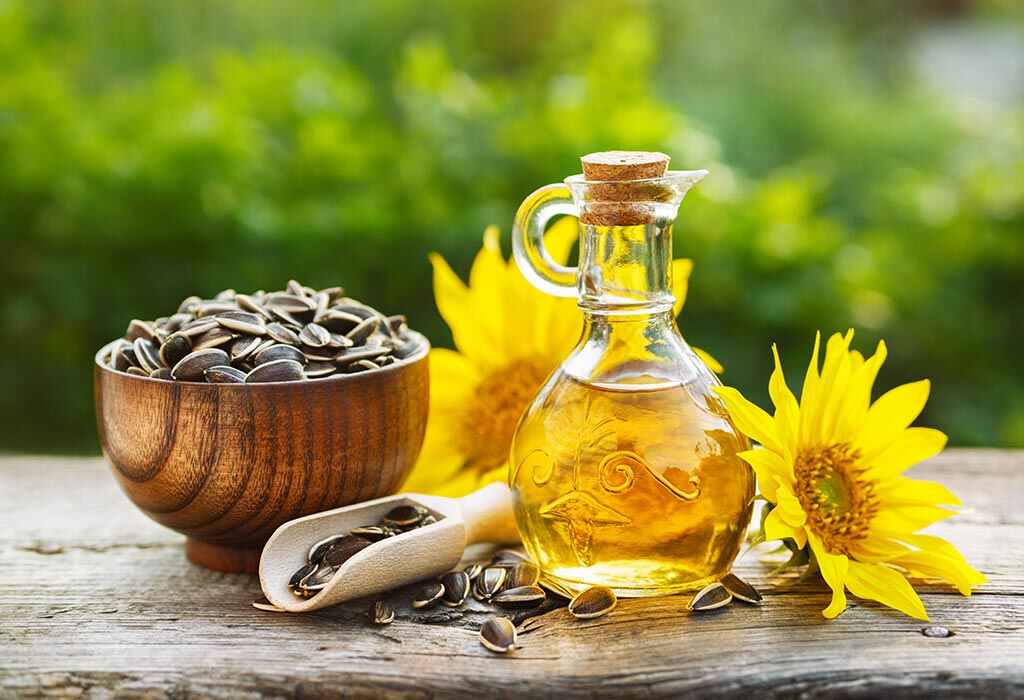 Some of the health benefits of sunflower oil include its ability to improve heart health, boost energy, strengthen the immune system, improve your skin health, prevent cancer, lower cholesterol, protect against asthma, and reduce inflammation. It is because of tis that it is widely used as a cooking oil.
The main component of sunflower oil is linoleic acid. Its other components include oleic acid and palmitic acid. In addition to these, it contains lecithin, carotenoids, tocopherols and appreciable quantities of vitamins A, D and E.
The cold pressed sunflower oil is amber in colour with a mild and pleasant taste. Refined oil is pale yellow in colour. Being extremely light with a high content of polyunsaturated fat, sunflower oil is often preferred over other oils like canola, safflower, corn and olive oils for cooking purposes. Its excellent smoothening properties and long shelf life make it ideal for cosmetic preparations.
Sunflower oil is a great skin doctor! The skin benefits of Sunflower Oil are:
Hair Benefits of Sunflower Oil:
Moisturizer: Just like skin, sunflower oil has a moisturizing effect on your hair as well. A wide array of nutrients and antioxidants together with essential fatty acids make it extremely beneficial for your hair. Following are the benefits of sunflower oil for hair.
Softens Hair: Due to its light texture and mild flavor, sunflower oil softens the hair and adds a delightful sheen to it. Sunflower seed oil helps to control frizz, tackles dryness and damage and makes you hair manageable. This versatile oil maintains your hair's luster and texture and can be used as a natural conditioner. Sunflower oil can be applied and massaged on your scalp before a bath once a week for maximum benefits.
Hair Conditioner: Being extremely light, sunflower oil helps in conditioning greasy hair. It nourishes the hair and prevents breakage.
Treats Hair Loss: Sunflower oil is an important source of gamma alpha linolenic acid (GLA) which helps in preventing thinning of hair. It is effective in the treatment of hair-loss, baldness and alopecia areata, characterized by round patches of lost hair.