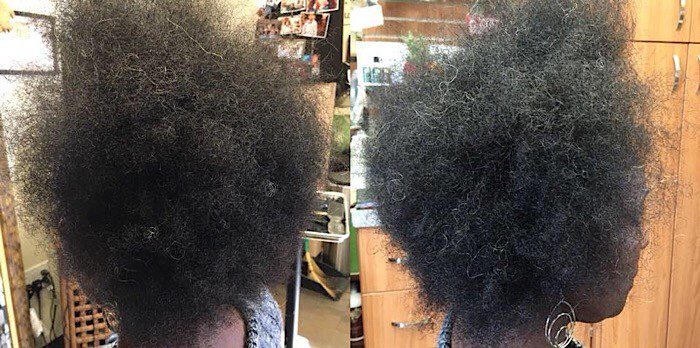 We're all guilty of getting a bit too comfortable with the heat and styling tools. But, sometimes we can't tell when we've crossed that line and our hair is literally on fire until it's too late.
Damage to hair by heat is no joke. If left untreated, heat damage won't go away no matter how much conditioner you use. Trust us, being aware of the signs of heat damage can help you take preventative action before it's too late.
In this article we'll discuss how to put out the flames of heat damage and identify if you're in denial before your hair is in an irretrievable state.
What Is Heat Damage?
We've all been there—we style our hair with heat, and we think it looks great. But weeks (or even months) later, you may notice that your hair is dry, brittle, or losing its natural curl pattern. This is an easy indicator of heat damage: when the proteins in your hair are broken down by the high temperatures used to style it.
It can affect any type of hair, although those with afro textured hair should take special note as heat damage is more common for them due to the already-drier texture of this hair.
Heat damage isn't something that happens overnight—it's a gradual process that begins with light breakage (like split ends) and eventually leads to more serious issues like complete lack of curl definition or texture. The key here is to recognize the signs of heat damage early and put out the flames before they become too difficult to ignore.
Warning Signs of Heat Damage Denial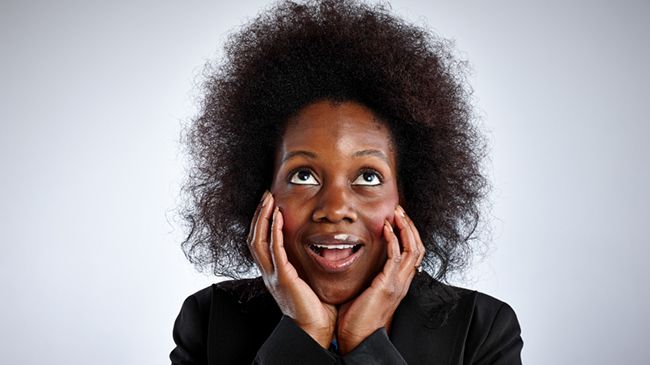 The first sign that you're in heat damage denial is that you're doing extra heat styling. If you're using a straightener, curling wand, or any other kind of heat styling appliance every other week, that's definitely a hint that there's something wrong.
Your hair should be able to stay styled without reapplying additional heat too often. There's plenty of ways to style your natural hair without having to apply heat to it. From holding it in a pineapple bun to having it braided, there are myriad heatless styling options you could always go with.
When you keep reapplying heat to your hair, it can be a symptom of underlying heat damage—and denial, all wrapped together.
So what are some warning signs of heat damage? Here are some to watch out for:
Your hair has become brittle and dry, no matter what you do
When you wash your hair, you don't notice any shrinkage
Changed hair texture (parts of your curly hair have become semi or completely straight)
Your have many split ends and they're only becoming more noticeable
Your hair has lost its elasticity (a hair strand snaps easily when you tug at it)
Your hair sheds more than usual
Your hair looks dull and really just has no life to it
Your hair is hard to color (the hue you're going for can become unachievable because the heat damage has made your hair more porous)
Don't be ashamed if you recognize yourself in one or more of these warning signs. That's why you're here after all—to get help and overcome the issue. Knowing is the first step towards recovery!
How to Fix Damaged Hair and Restore Health
You might be in denial if your hair is dry and brittle, or if you've had to give up on the hairstyles you used to pull off with ease. Depending on the level of damage, there's some solutions that can help bring back your bouncy hair.
Hair Masks and Deep Conditioning Treatments
If you find that your strands are already starting to feel brittle or are beginning to break off, then it's time for hair masks and deep conditioning treatments. Opt for those rich in moisturizing ingredients like shea butter and argan oil to restore the moisture to your hair follicles.
Deep condition your hair once a week to put moisture back in your hair follicles. Additionally, use conditioners with ingredients like avocado oil, coconut oil or aloe vera to help restore your hair follicles.
Get a Trim
If possible, make an appointment with your stylist to get your hair trimmed. Even if the damage is only at the tips, it can stop the heat damage from traveling up to the shafts of your hair.
After trimming off a good amount of those damaged ends, go straight into a protective style like braids or twists. This can help keep your mind off of your lost length, while allowing your hair to grow without doing a bunch of things to it.
While you can do this at home using hair cutting shears, it's best to get your hair cut by a professional who can easily identify where the damage in your hair ends.
Avoid Shampooing Your Hair Daily
Shampooing your hair when it's in this state only accelerates the damage further. Doing this will strip your hair of the moisture it already lacks.
Limit washing your hair to at least once every three weeks, until your hair starts to regain its curly consistency.
The Big Chop
Giving up your length can be pretty painful, but if you're looking to effectively repair your heat damaged hair and have your curls popping again, this could be the quickest way.
You can resort to this especially if your hair has completely lost its texture and elasticity. Doing a big chop to get rid of all your straight ends really can help you get your curls back and better.
It's best to have this done from a professional in a hair salon for a more even look.
Steps to Take to Prevent Further Heat Damage
By being informed about proper styling technique and how to restore damaged hair, you can take proactive steps toward managing the health of your hair before going too far down the road of heat damage denial!
Use heat protectants
Invest in quality heat protectants – they'll form a non-stick barrier around each strand of hair, protecting them from burning and drying out. Make sure that every time you use hot tools, like blow dryers or straighteners, you use a product with a heat protectant. If you're looking for one, look no further than our 2In1 Sapphire Deep Conditioner and Leave In Treatment! It's been enriched with a heat protectant to better protect your hair as you apply heat to it.
Air dry when possible
If at all possible, let your hair air dry instead of using hot tools like blow dryers as often. This will allow your hair to retain some of its natural moisture so that it doesn't become overprocessed.
Conclusion
As the name implies, the only way to avoid heat damage is by keeping your styling tools at lower temperatures and limiting their usage as much as possible.
Acknowledge when your hair needs a break from the heat and take it upon yourself to take the break with rich hair masks, deep conditioning treatments and protective styles.
Your natural hair is capable of being strong and beautiful, don't let it be a hard rock when it's really a gem. And it's important to remember that and not treat yourself too harshly when heat damage happens.
With the right knowledge, care and commitment to making an effective change, your hair can be the envy of many and a source of pride.