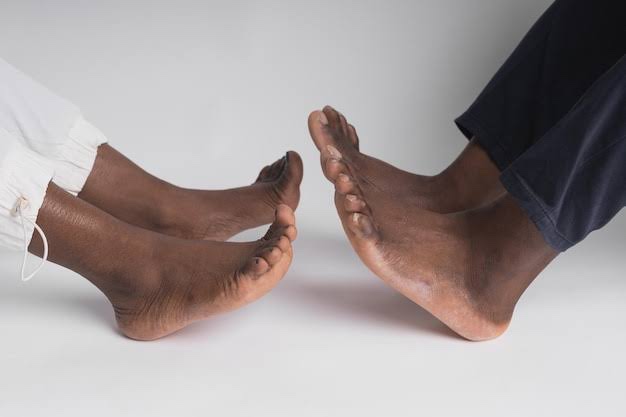 "I like my feet dry and rough," said no one ever. On top of being unsightly, dry feet may feel itchy and uncomfortable. Fortunately, there's a natural solution that has been cherished for centuries: shea butter. In this post, we'll explore how shea butter can be a game-changer for your dry feet and introduce you to Livara's Moonstone Shine Body Butter, an effective product formulated with pure shea butter.
Understanding the Dry Feet Dilemma
Dry feet can lead to discomfort, itching, and even visible cracks that may become prone to infections. Here are some factors that can contribute to dry feet:
Lack of Moisture: When your feet have insufficient moisture, they can become dry and pale.
Overexertion: Due to standing, walking, exercising, and bearing the majority of our body weight, your foot is also always under pressure throughout the day. This is one of the reasons why our feet may develop dry skin or dry calluses on the pressure points of our feet. Because of this, obesity is strongly associated with dry feet. •Additionally, the heels of your feet may be over exerted if you wear shoes like heels(pun unintended) all the time. Aim to wear shoes that give your feet the comfortable support they need.
Using harsh soaps: Numerous body soaps come with strong ingredients that can irritate skin. Their pH tends to be more alkaline than that of the skin, which may lead to an imbalance that dries out the skin. •If you have dry skin on your feet, you should look out for milder soaps that don't have added perfumes and have hydrating components like aloe vera or shea butter like our Shea Face and Body Soap.
Frequently Wearing Backless Shoes: People who wear regularly wear backless shoes such as sandals and flip-flops are at a higher risk of developing dry feet. Calluses and dry skin might form because the skin around the heel is exposed.
Skin infections: Conditions like eczema, psoriasis and Athlete's foot can cause dry scaly skin on the feet.
Hot showers: We know that a hot shower is the best way to unwind. However, the longer you spend having one, the more your skin's moisture reduces. We recommend that you turn down the heat a bit and avoid taking long in a hot bath.
Aging: As we age, our skin tends to lose moisture more easily, making it more prone to dryness.
How Shea Butter Helps
Shea butter is a natural emollient derived from the nuts of the African shea tree. It's known for its remarkable moisturizing properties. Here's how it can be a savior for your dry feet:
Intense Hydration: Shea butter is rich in fatty acids and vitamins that deeply moisturize the skin, restoring lost moisture and promoting softness and smoothness.
Skin Barrier Protection: It forms a protective barrier on the skin's surface, preventing further moisture loss.
Anti-Inflammatory: Shea butter has anti-inflammatory properties that can soothe irritated skin. Applying shea butter to your feet can provide relief from itchiness and discomfort from conditions that affect the skin like eczema.
Introducing Our Moonstone Shine Body Butter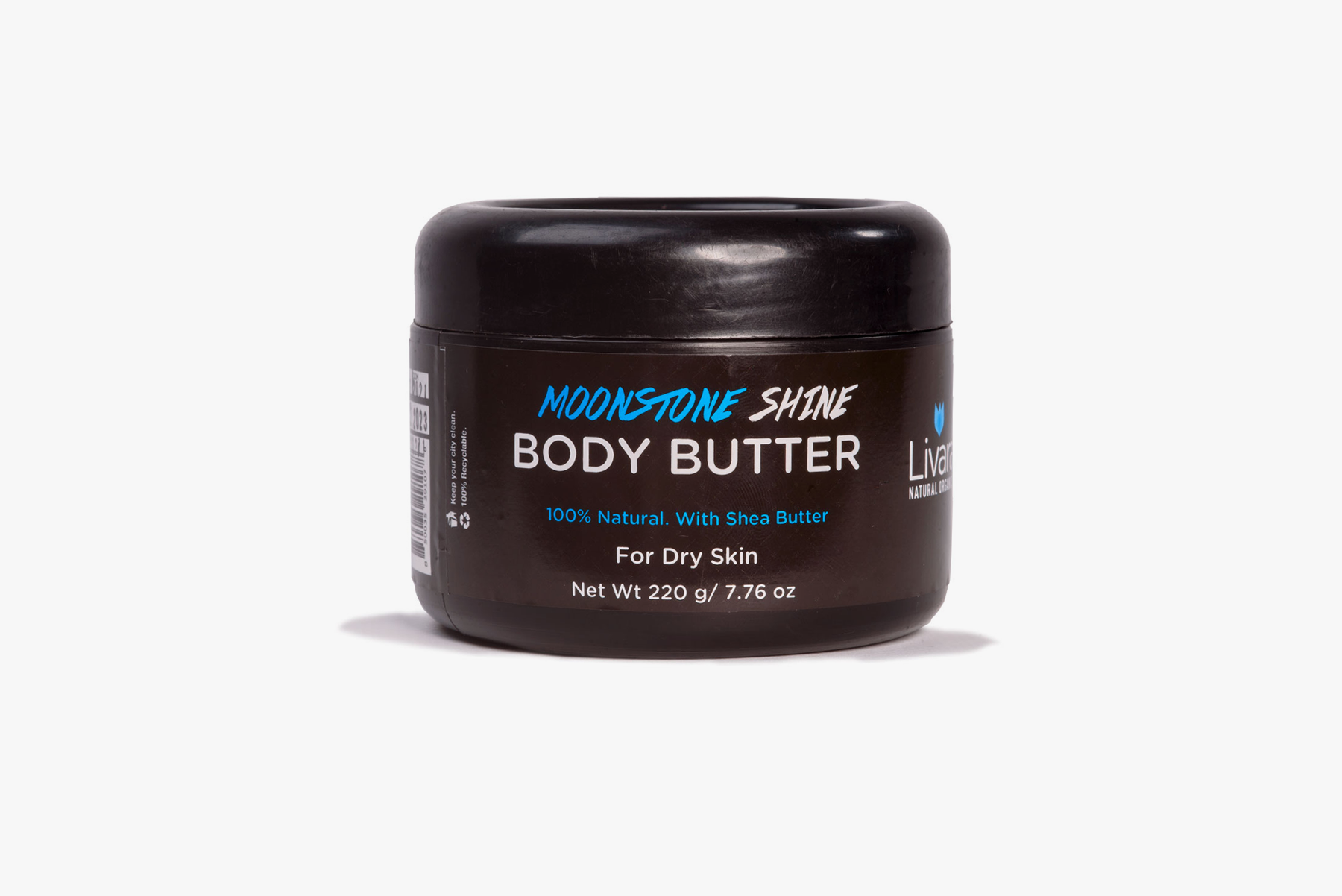 When it comes to choosing a shea butter product for dealing with dry feet, quality matters. Our Moonstone Shine Body Butter is a standout choice for several reasons:
Pure Shea Butter: Moonstone Shine Body Butter is formulated with pure, unrefined shea butter from Northern Uganda. This means you're getting all the natural goodness of shea butter without any added chemicals or preservatives.
Nourishing Oils: In addition to shea butter, the body butter contains olive oil and cocoa butter, which further enhance its moisturizing properties.
Aromatherapeutic Benefits: Our Moonstone Shine Body Butter is enriched with lavender essential oil and grapefruit pink essential oil. The calming blend can Lavender promotes relaxation and can help alleviate stress and boost your mood.
How to Use
Using shea butter for your feet is easy. First, make sure to exfoliate your feet first (especially if you have cracks) with a pumice stone or gentle exfoliating foot scrub.
Pat your feet dry and spread some shea butter over your feet. Take your time as you massage it over your soles and heels.
All in all
You can say goodbye to dry feet and hello to soft, supple skin with shea butter. With its exceptional moisturizing properties, shea butter can be a true ally in alleviating the issue.
Our Moonstone Shine Body Butter takes the benefits of shea butter to the next level with a pure and natural formulation, enriched with delightful essential oils.