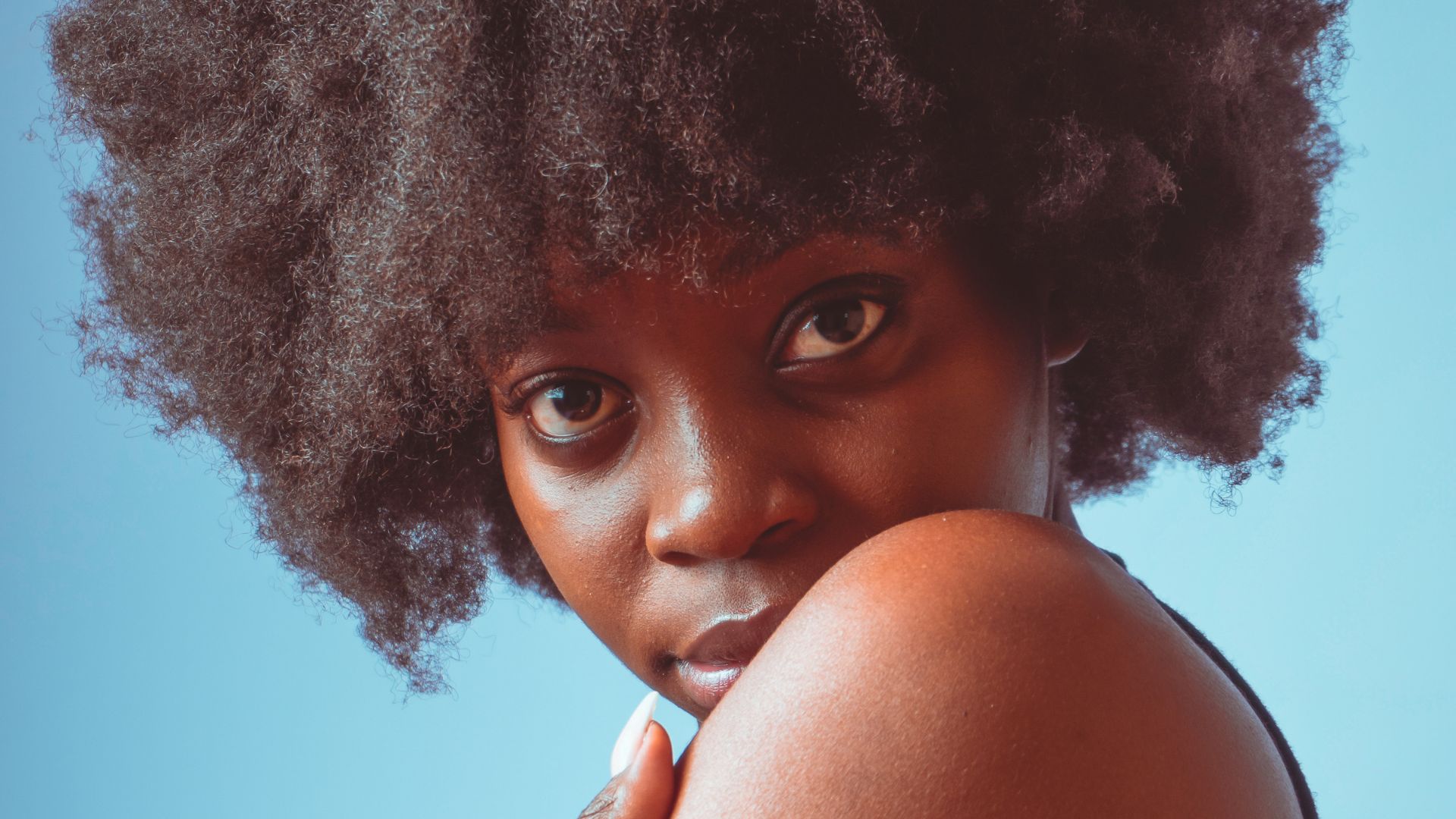 Afro-textured hair is unique in its need for nourishment. Natural oils are an excellent way to maintain and care for afro hair because they serve as emollients and occlusives to lock in water and prevent natural hair from losing moisture. So before you oil your hair, its important to moisturize your hair regularly for the oils to do their job.
Natural oils provide numerous benefits for hair, including hydrating and protective properties that keep it healthy, strong, and looking its best. You could pick from a range of options, the best of which include castor oil, black castor oil, jojoba oil, shea butter, olive oil, tea tree oil, avocado oil, rosemary oil, and argan oil. Each oil offers a unique set of benefits that promote healthy hair.
Castor Oil
Castor oil is a favorite among many for promoting hair growth and preventing breakage. Black castor oil is especially effective because of the way it's processed. The extra step of roasting the castor plant seeds makes the oil more alkaline. Increased alkalinity helps to open up the cuticle, making the absorption of nutrients into the shaft and scalp easier.
Jojoba Oil
Jojoba oil is lightweight and easy to absorb, which makes it ideal for hair that needs nourishment but does not want a heavy residue. Jojoba oil is an excellent option for those with dry and dull hair. It contains vitamins and minerals that nourish the scalp and hair follicles, resulting in shiny and healthy hair.
Shea Butter
Shea butter is a creamy and rich natural oil that is packed with vitamins A, E, and F, as well as fatty acids. These nutrients add shine to the hair, and the butter effectively seals moisture in the hair. People with curly or coarse-textured hair can also benefit from shea butter, as it softens the hair, making it more manageable.
Enjoy the benefits of shea butter by using our range of natural hair products, such as our Tanzanite Hair Oil and Emerald Hair Food.
Olive Oil
Olive oil can strengthen hair follicles, repair damage, and keep hair manageable while also conditioning dry hair. Because of this, the hair becomes stronger and breaks less. This can help you retain your length as a result.
Tea Tree Oil
Tea tree oil, with its antifungal properties, is ideal for combating scalp problems. Tea tree oil can be used to prevent the buildup of dead skin and keep your hair healthy and moisturized. Take care to apply tea tree oil when diluted with another carrier oil like olive or almond oil, as in its pure state it may dry out the scalp.
Avocado Oil
Avocado oil is a nutrient-rich oil that contains vitamins A, B, D, and E, as well as essential fatty acids. It's ideal for preventing breakage and hair loss, promoting hair growth, and moisturizing dry hair. You can find avocado oil in our Emerald Hair Food.
Rosemary Oil
Rosemary oil is an excellent oil for promoting hair growth and preventing hair loss. It's rich in antioxidants and has antibacterial and anti-inflammatory properties that help to nourish and strengthen hair follicles.
Argan Oil
Extracted from the fresh kernels of the fruit of the argan tree in Morocco, argan oil has been used for centuries because of its numeral benefits. It's rich in vitamin E, which can prevent dryness of the hair, reduce frizziness, and boost shine. It also has fatty acids that lubricate the hair shaft and help your hair maintain moisture.
What to Consider
When it comes to picking the right oil for your hair, you need to consider some things.
1. Your hair's needs
First, determine your hair's needs, as not all oils are created equal. Some oils are great for strengthening weak hair, while others soften and add luster to dull hair.
Dry hair is a common problem, especially for afro-textured hair. Castor oil, jojoba oil, shea butter, and essential oils like rosemary oil are all excellent for dry hair. These oils are effective in moisturizing the hair, making it soft, shiny, and more manageable.
2. Your hair porosity
Secondly, the porosity of your hair is essential in selecting the appropriate oil. For low-porosity hair, lightweight oils like almond oil, jojoba oil, and grapeseed oil, which easily penetrate the cuticle, are recommended. For high-porosity hair, heavier oils that reduce flyaways, like coconut oil and olive oil, are ideal.
3. Styling needs
Lastly, consider your styling needs. For curly styles, it is important to keep your ends juicy and hydrated with an appropriate oil, and for protective styles, use a nourishing oil on the scalp to prevent it from getting irritated as you plait.
How Often Should You Use Hair Oil?
You can use hair oil once or twice a week, depending on your hair's needs and how frequently it needs moisturizing.
Bottomline
There are plenty of natural oils that can be beneficial to afro-textured hair. It's important to use the oils that address your unique hair needs and use them in moderation.
Remember, oils cannot work effectively unless you moisturize your hair first. Moisturize with a leave-in conditioner or water-based moisturizer like our Tsavorite Spritz Moisturizer Hair Spray, then follow up with the oil of your choice.
Enjoy the benefits of these oils and more with our range of Livara hair products.