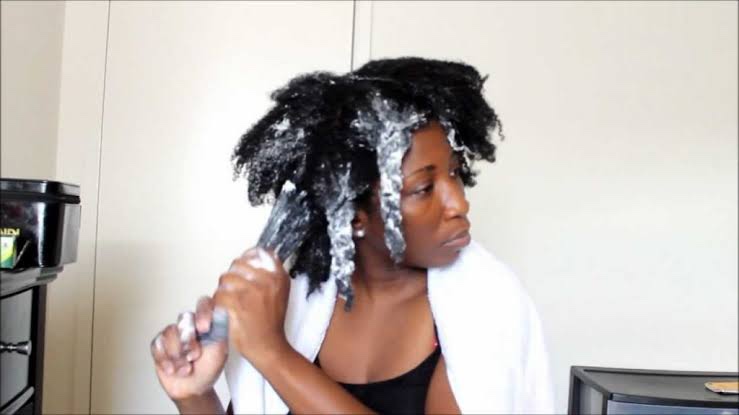 A thoughtful approach to hair care is necessary to preserve the health and vibrancy of Afro-textured hair. The foundation of this routine is deep conditioning, which provides an essential boost of nutrients and moisture. We'll go over the methods and procedures for deep conditioning Afro-textured hair in this guide to make sure your curls are healthy and thriving.
Choosing the Right Deep Conditioner:
Selecting a deep conditioner specifically formulated for Afro-textured hair is paramount. Look for products rich in natural oils like coconut, olive, or argan oil, and ingredients such as shea butter or glycerin known for their moisturizing properties. A perfect fit is our Sapphire 2in1 Deep Conditioner and Leave-In Treatment. Made hydrating ingredients like shea butter and aloe vera—perfect for your strands.
Preparing Your Hair:
Start with clean, damp hair. Use a gentle moisturizing shampoo to remove product buildup and provide a clean canvas for deep conditioning.
Sectioning for Manageability:
Divide your hair into manageable sections. Depending on your hair length, you can make 2-4 sections. This not only makes the application process more efficient but ensures that every strand receives the deep conditioning treatment.
Application Process:
Apply a generous amount of the chosen deep conditioner to each section, focusing on the ends and areas prone to dryness. Using a wide-tooth comb, distribute the product evenly to ensure thorough coverage.
Harness the Power of Heat:
To enhance the penetration of the deep conditioner, use heat. Whether sitting under a hooded dryer or covering your hair with a plastic cap, the added heat opens up the hair cuticle, allowing the conditioner to deeply nourish the strands.
Adhere to Time Recommendations:
Follow the instructions on the deep conditioner for the recommended time. This typically ranges from 20 to 30 minutes, but some treatments may benefit from a more extended period. This time allows the ingredients to work their magic on your curls.
Thorough Rinsing:
After the designated time, thoroughly rinse your hair with lukewarm water. Ensure that all traces of the deep conditioner are removed. Opt for lukewarm water, avoiding hot water that could strip your hair of its natural oils. If it's a leave-in conditioner, simply let it sit in your strands and let your hair air dry.
Consider a Cold Rinse:
For an extra boost, finish with a cold water rinse. This helps to seal the hair, promoting shine.
Styling as Desired:
Proceed with your regular styling routine once your hair is rinsed. Many individuals choose to follow up with leave-in conditioners, oils, or creams to maintain the moisture balance.
Frequency and Consistency:
Deep condition Afro-textured hair regularly, at least once every 2-3 weeks, or as needed based on your hair's unique requirements. Deep conditioning more frequently than this may result in hygral fatigue.
Bottomline
For Afro-textured hair, deep conditioning is a transformative ritual that provides a boost of moisture and nutrients necessary to keep the hair healthy and vibrant. You will have nourished, flourishing curls that exude strength and beauty if you follow these instructions and add deep conditioning to your regular hair care regimen.