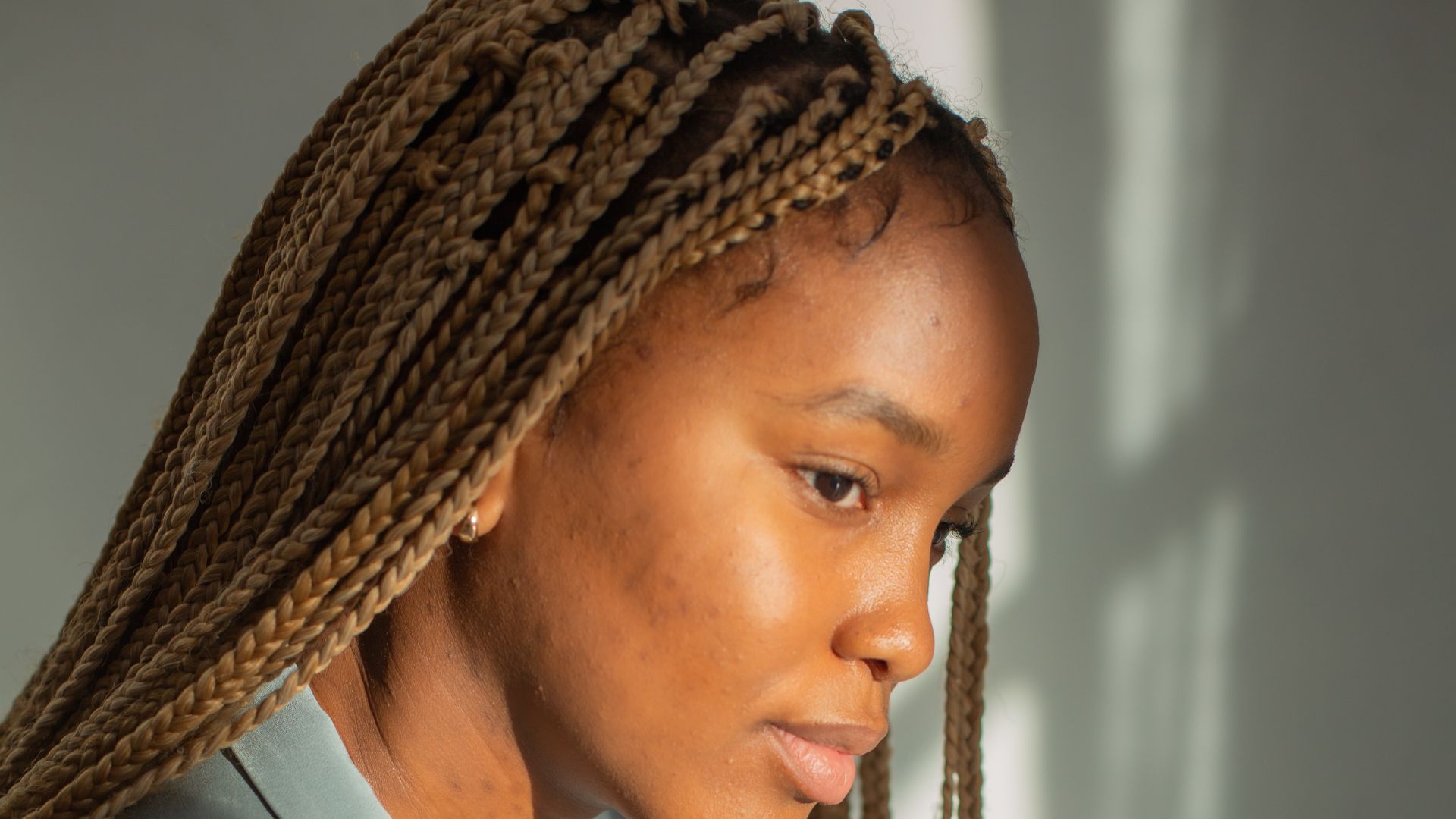 For many people with 4C hair, buildup is an ongoing battle. More pronounced during or after a protective style is in, many of us know how bad buildup can get. Besides making the hair dull and heavy, heavy buildup may even clog your follicles, which could trigger permanent hair loss. Luckily, there are ways to combat buildup and keep your curls looking their best. 
What Causes Buildup?
First off, what exactly is buildup? Well, it's essentially a layer of residue that accumulates on the scalp and hair strands.
According to Healthline, there are two types of buildup; natural buildup and product buildup.
Natural buildup is an accumulation the dead skin cells, sebum and sweat your hair produces. Product buildup on the other hand is caused by the residue from hair products. Hair products ranging from hair pomades to conditioners to styling creams and gels usually contain waxy substances that can stick to your hair and scalp.
While these ingredients can be beneficial for moisturizing the hair and giving it shine, they can also cause buildup over time. Such buildup can cause flaking, and even make your scalp itchy.
How To Deal With Buildup
So how do you deal with buildup in 4C hair? The best way to combat buildup is to use a clarifying shampoo. Clarifying shampoos are specially formulated to remove buildup and residue from the hair and scalp.
Look for shampoos that contain ingredients like tea tree oil or peppermint, as these are known to be effective at removing buildup.
Our Tsavorite Clarifying Treatment Hair Shampoo is an excellent option for people with 4C hair who are struggling with buildup. It's made with peppermint, which is a natural astringent that can help to unclog hair follicles and remove buildup. Plus, it's sulfate-free, so it won't strip your hair of its natural oils.
When using a clarifying shampoo, it's essential to follow the instructions carefully. You don't want to use it too frequently, as this can cause your hair to become overly dry. It's typically recommended to use a clarifying shampoo once a month or whenever you notice that your hair is feeling particularly greasy or weighed down.
In addition to using a clarifying shampoo, there are a few other things you can do to help prevent buildup. First, try to avoid frequent use of hair care products that contain heavy oils, waxes or silicones. Instead, opt for lightweight products that won't leave residue on your hair.
Thoroughly Cleanse Your Hair
Second, make sure to thoroughly rinse your hair after washing it. Any leftover shampoo or conditioner can contribute to buildup over time.
Additionally, avoid skipping wash days. Wash your hair every 2-3 weeks, or as you deem fit. Having dirty hair as you layer on more hair products could make the buildup worse. So endeavor to regularly cleanse your strands.
ACV Rinse
Finally, consider doing an apple cider vinegar rinse. Anecdotal evidence indicates that an ACV diluted with water can aid in the break down of buildup. ACV also has antimicrobial properties can also help get rid of excess fungal and bacterial growth on your scalp.
The Bottom Line
Buildup is a common issue, but it's one that can be effectively dealt with. By using a clarifying shampoo like our Tsavorite Clarifying Treatment Shampoo, avoiding heavy oils and silicones, rinsing your hair thoroughly, and ACV rinses, you can keep your hair looking healthy, shiny, and free of buildup. Remember, you are a GEM.
We also want to hear from you! Let us know your favorite way to get rid of buildup in the comments below!