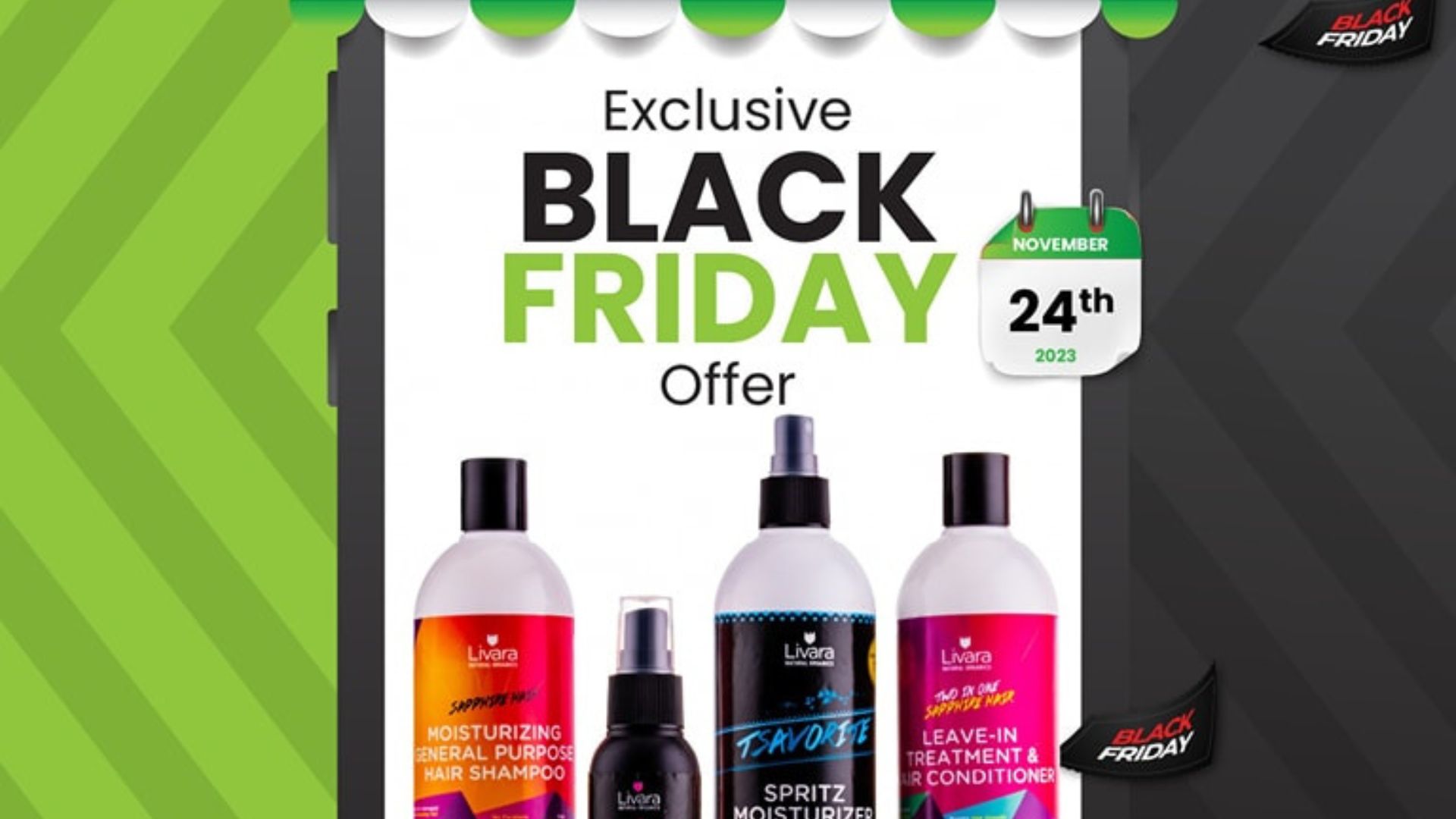 Black Friday is almost here, and Livara is definitely with the program. Savor the goodness of Livara's exclusive line of products this Friday, November 24th. Take a pick from our natural ingredient-infused conditioners, shampoos, and hair butters—all perfect for natural hair. Not forgetting our nourishing body butters, gentle cleansers, and toners—all at a delightful 20% off. Elevate your self-care routine with premium, natural beauty products, all while enjoying significant savings.
Elevate Your Hair Care: Livara's Nourishing Shampoos
Transform your hair care routine and give your hair the gentle care it deserves with Livara's expertly crafted sulfate-free moisturizing shampoos. What's more, we have products for everyone- children and adults. Take a pick from our shea butter infused-Sapphire Hair Shampoo, guava and peppermint-infused Tsavorite Clarifying Treatment Hair Shampoo or our all-organic Jadeite Kids Baby Hair Shampoo. Say hello to healthier, more vibrant hair, with the added bonus of a 20% discount this Black Friday.
Silky Smoothness: Livara's Premium Conditioners
With Livara's high-quality conditioners, you may as well say goodbye to hair dryness forever. Our conditioners are made to boost the health of your strands, preventing breakage and leaving you with soft manageable hair. Use our Sapphire 2in1 Deep Conditioner and Leave-In Treatment or our washout Tsavorite Booster Conditioner and enjoy smooth healthy strands. We also have Jadeite Kids Leave-in Hair Conditioner and Detangler for the little ones.
Nourishing Hair Moisturizers
Get instant relief from scalp itchiness, prevent dandruff, and boost hair growth with our guava leaf-infused Tsavorite Spritz Moisturizer Hair Spray and Jadeite Kids Spritz Moisturizer Hair Spray.
Enhance Shine: Livara's Hair Oils and Butters
Treat your hair to a nourishing feast with Livara's Emerald Hair Food and Tanzanite Hair Oil. Whether you're looking to increase your hair's shine or promote healthy hair growth, enjoy 20% off and discover the real secret to long, healthy hair.
Livara's Exclusive Body Butters
Experience the goodness of shea butter, moringa oil, cocoa butter, coconut oil, and fresh-smelling essential oils like jasmine with our carefully crafted body butters, enriched with the finest natural ingredients. We have a range of body butters, each addressing different skin concerns.
Our Moonstone Shine Body Butter is perfect for those struggling with dry skin, the Diamond Tones Body Butter works perfectly for stretchmarks; and the Mugisha Anti-Aging Body Butter is great for anyone looking to firm their skin and give it a youthful look and glow. If you've got oily skin, you can use our Ruby Glow Body Butter without worrying about it clogging your pores. For those with combination skin, you'll LOVE our Chocolate Ruby Body Butter.
Refresh and Renew: Livara's Cleansers and Toners
Prep your skin the right way with our Ugandan-made Pearl Facial Cleanser and Pearl Skin Toner. A cleanser is essential for removing dirt and excess oil from the skin; using a toner afterwards is necessary for balancing the skin's pH, preventing acne. Our Shea Face and Body Soap is also an excellent cleanser, great for anyone looking for something gentle to use for their entire body. Discover the world of natural revitalizing skincare products this Black Friday, and take advantage of 20% off items that will enhance your skin's natural radiance.
Why Choose Livara?
At Livara, your wellbeing, authenticity, and quality come first. Our products are cruelty-free, free from dangerous chemicals, and expertly curated to provide exceptional results for your hair and skin. Embrace your natural beauty with Livara and enjoy the confidence that radiates from within. Because you are a gem.
Don't Miss Out! Visit Livara Today
Get the best of both worlds with Livara this Black Friday. Shop our exquisite range of natural hair and skin products at our Livara Family Salons and stores countrywide. With a 20% discount on everything, there's never been a better time to invest in your journey towards healthier hair and skin.