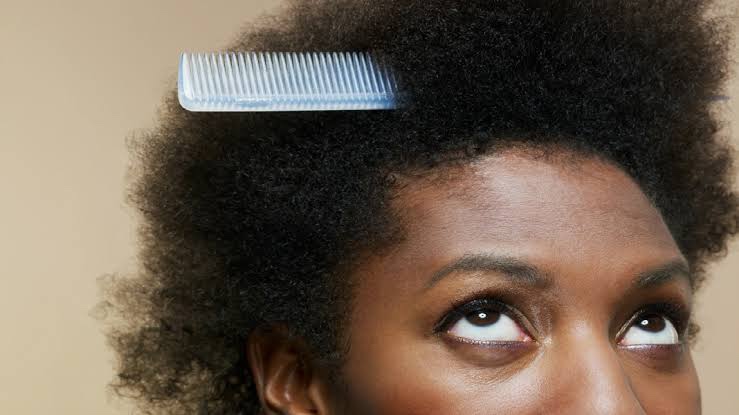 It's true – combing can pose a number of challenges for those with natural hair. The concerns about mechanical damage and breakage within the natural hair community have given rise to cautionary tales against regular combing or combing in general. However, it's crucial to delve deeper into this matter, recognizing that while combing can bring some problems, it's not inherently bad. Read on as we explore the relationship between combing and natural hair, giving you an unbiased point of view on the matter.
The Dual Nature of Combing
For many naturals, combing is a given. Combing is generally essential for various reasons including:
Detangling: Combing the hair helps remove knots and tangles, making it easier to manage.
Styling: Combing is essential for creating desired hairstyles, or for a general neat look of the hair.
Distribution of Products: Combing can evenly distribute products like conditioners, oils, or hair butters throughout the hair, so every part of the hair can benefit from the product.
While combing is beneficial, as you know by now, it's not without its risks. Combing, when not done with care and understanding, can indeed lead to challenges for natural hair.
Natural afro-textured hair has a special structure that makes it more prone to breaking, and using the wrong combing technique can make these problems worse. Poor combing techniques such as over combing or aggressive combing may result into issues like:
Breakage: Overcombing can cause hair strands to further weaken and break, especially at the ends which are most fragile. Constant breakage at the ends may give an impression of stunted hair growth as a result.
Split Ends: Aggressive combing contributes to split ends by damaging the cuticle, leading to the splitting of the hair shaft. If not trimmed off, split ends can travel further up the shaft and damage it entirely.
Irritation of Scalp: Rough combing can irritate the scalp, causing discomfort and even painful inflammation.
How to Prevent Problems from Combing
It's critical to understand that, when done right, combing may play a significant role in keeping natural hair healthy and well-groomed. Here are some tips for the next time you choose to comb:
Tool Selection:
The choice of comb is paramount. Wide-tooth combs are widely (pun intended) recommended since they can easily work their way through curls with little resistance. Avoid using fine-tooth combs since they tend to tug onto the hair and break it.
Condition of Hair:
It is true that combing dry natural hair can cause breakage. Nevertheless, the problem can be avoided by moisturising the hair with some water or water-based moisturizer, or by applying a leave-in conditioner. Because of the increased slip, detangling is easier to do and there is less chance of breakage.
Frequency:
Limit combing to as few times as possible. As you saw earlier, over combing can result into hair loss and split ends. To prevent having to comb your hair daily, adopt protective styles like twists, braids and cornrows to reduce the need for combing.
Be Gentle:
The key to successful combing lies in adopting gentle techniques. Instead of rushing through the process, take the time to section your hair and detangle from the ends to the roots. Finger detangling is a fantastic alternative for those seeking an even gentler approach.
A Better Alternative: Finger Detangling
Finger detangling is exactly as you hear it: using fingers for detangling your strands. This technique is much gentler and more effective method for managing natural hair. With finger detangling, you use your fingers to separate and untangle knots and kinks in the hair rather than relying on a comb or brush.
Just like regular combing, finger detangling is recommended to do on damp hair. Use a water-based moisturizer or conditioner to provide slip and make the detangling process smoother.
Bottomline
While combing natural hair may come with challenges like breakage, it's not inherently bad, especially when done properly. By acknowledging the potential risks and adopting the right practices, you can navigate the tangle with confidence. Remember, you are a gem.