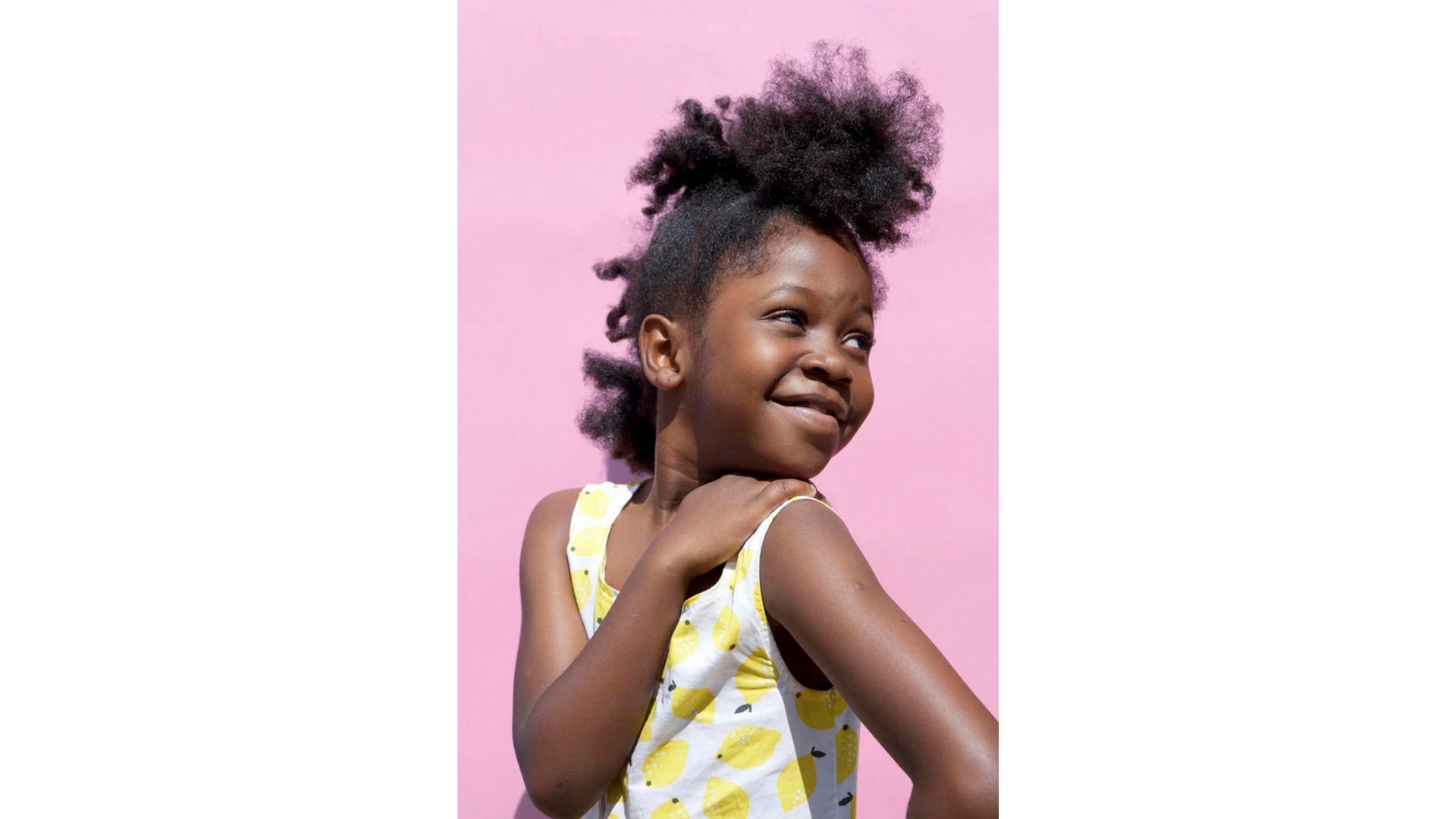 Haim Ginott, an Israelite child psychologist and psychotherapist, once commented: "Children are like wet cement. Whatever falls on them makes an impression." Many African girls and women have had a bad impression about taking care of their natural hair. As children, many of us dreaded our hair being touched-and for good reason.
The aggressive combs, or worse yet, hot combs and harsh relaxers; for many young girls, haircare meant pain. Thankfully, children's haircare has evolved over the years, and parents (yes, both moms and dads) are adopting gentler and better ways to take care of their little ones' hair. We're here with some simple guidelines for taking care of your child's hair.
Basic Guidelines
Products for you little one's hair regimen comprise of a shampoo, conditioner and an oil or butter. However, these products should be used following these basic guidelines:
Detangling
In her book, "Gorgeous Mane," Diana Acen Sangho recounts the dreadful memories of combing her hair. "It was always screams, tears, and face cringing…My mother never knew what is called 'hair detangling'." She explains that hair detangling is what will change your child's attitude to the way you handle their hair.
Detangling must be done before you can rinse or condition the hair. The right way to execute it is is as follows:
Slightly mist the hair with either water or detangler like our Jadeite Kids Baby Hair Shampoo.
Section off the hair into manageable sections using a wide-toothed comb or your fingers.
Use your fingers to separate any clumped or matted hair. Do this portion by portion. Gently smooth your fingers through it to remove any knots and tangles as well.
Once you're done finger detangling, use a wide toothed comb to smooth out the hair. Starting from the ends (from about an inch of the end of the hair), detangle using the comb. Gradually work your way down to the roots and repeat this motion until the entire section is free from any tangles.
When the section is fully detangled, you can choose to loosely braid or hold it with a non-tugging hair tie like a scrunchie. You can then move on to other sections.
Repeat this until all the hair is detangled.
Moisturizing
Just like adult hair, children's hair needs to be moisturized, especially around the time they reach 2 years of age. At this age the hair becomes thicker and stronger as compared to before. Moisturizing can be as simple as spritzing their hair with some water and applying a natural oil after or using a store bought moisturizer like our Jadeite Kids Spritz Moisturizer Hair Spray.
Moisturizing 3-4 times a week is perfectly fine. Depending on how dry your child's hair is, you can moisturize as often as you deem fit.
Drying
You shouldn't be using a towel to dry your child's hair. Towel fibers suck out a lot of the moisture from your child's hair, and their rough fibers could break some of the hair.
Dry your child's hair with a microfiber towel instead, or a t-shirt. These materials aren't nearly as tough and they'll leave the hair damp enough for you to apply products like conditioner and a hair oil or butter.
Child-friendly styling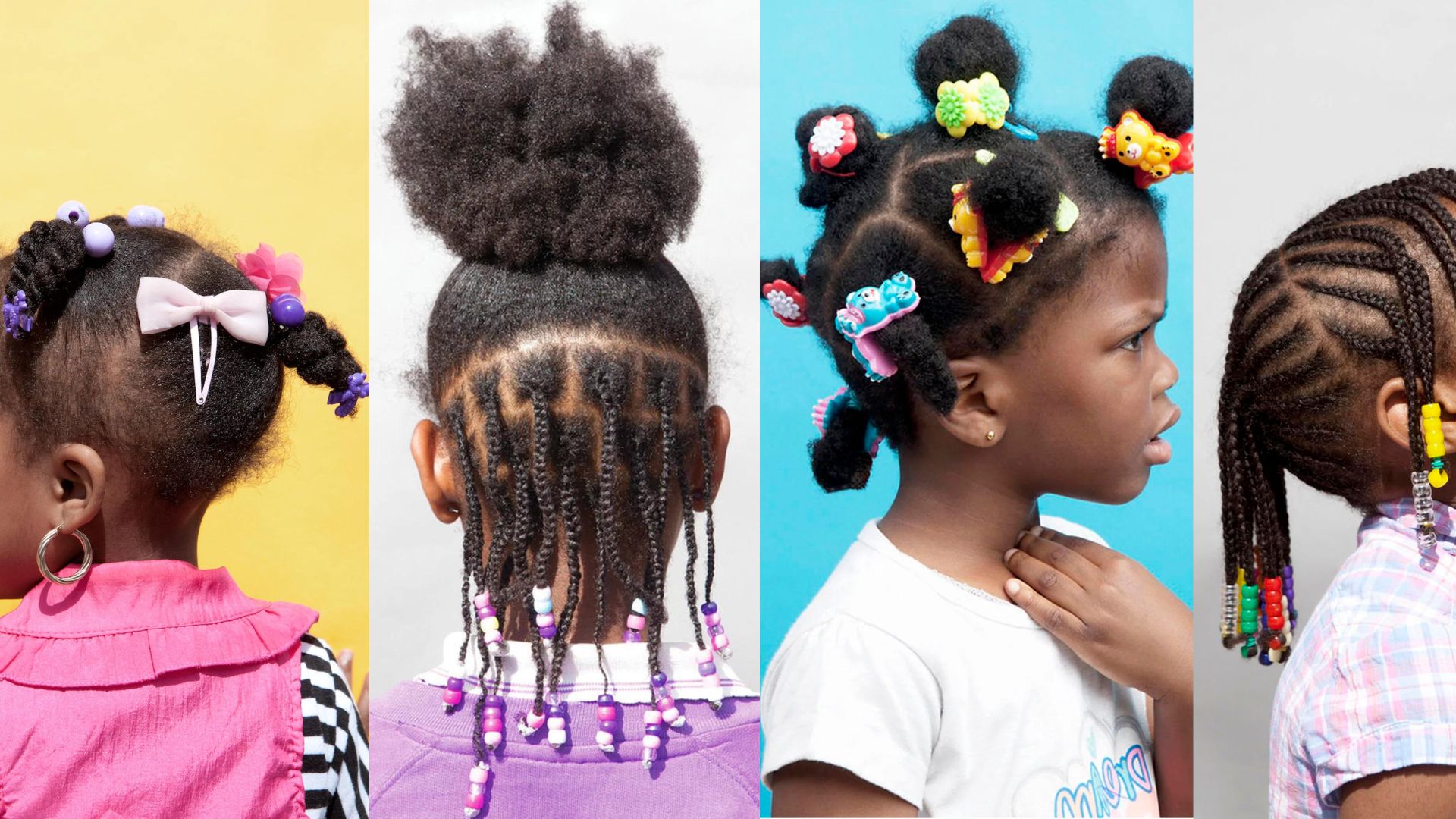 Opt for low manipulative styles like twists, cornrows, or loose braids. These styles can easily be maintained daily by moisturizing and oiling, and you can save your child's hair the irritating inconvenience of daily manipulation.
We strongly discourage against subjecting your child's hair to heat, especially when they're below the age of 5 years. Their scalps are still sensitive and doing something like that could leave them with painful burns.
Even when the child is older, avoid heat as much as possible. In the event that you actually do, ensure to use a product with a heat protectant, like our Sapphire 2In1 Deep Conditioner and Leave-In Treatment before you can apply any heat. Make sure to use the heat tool when it's at the lowest temperature setting.
Back to styling, for styles like braids and pony tails, ensure that the hair around the hairline is held relatively loose. This prevents tension on the hair when your child is playing, sleeping, or even simply moving her head.
Make sure to keep any style made in your child's hair moisturized with a water-based moisturizer and seal in the moisture with an oil.
Night Care
Diana continues to write in her book, "Gorgeous Mane" that you shouldn't let your child sleep with an up hairdo like a ponytail. You're damaging your daughter's hair by letting her sleep with it held up, and you wouldn't want to be the reason she has weak edges as an adult.
Make sure that you take off all hair accessories, ties and bows before your child goes to sleep. These can tug at the hair as the child tosses and turns in their sleep.
Another good practice you can help them adopt is covering their hair before they sleep. You can try covering their hair with a light satin bonnet or scarf to gradually get them into the habit of protecting their hair.
This may not be an easy task however. Where it becomes difficult to implement, you can always opt for a silk or satin pillowcase. As you know, cotton pillowcases rub against the hair and absorb the moisture from it.
Wash day
For little babies of 0-2 years, it's not necessary to implement a full-on wash day with shampoo and whatnot. For children that young, cleanse their hair with water or a diluted conditioner.
For children older than this, you can start by detangling (as explained earlier), wash with a gentle moisturizing sulfate-free shampoo (like our Jadeite Kids Baby Hair Shampoo), rinse and thereafter condition. Make your wash day easier with our gentle Jadeite Kids Leave-in Hair Conditioner and Detangler. Trust us, you won't regret it!
After applying conditioner, make sure to detangle once again, with a wide toothed comb. Moisturize and thereafter seal in with a butter or oil, and proceed to style.