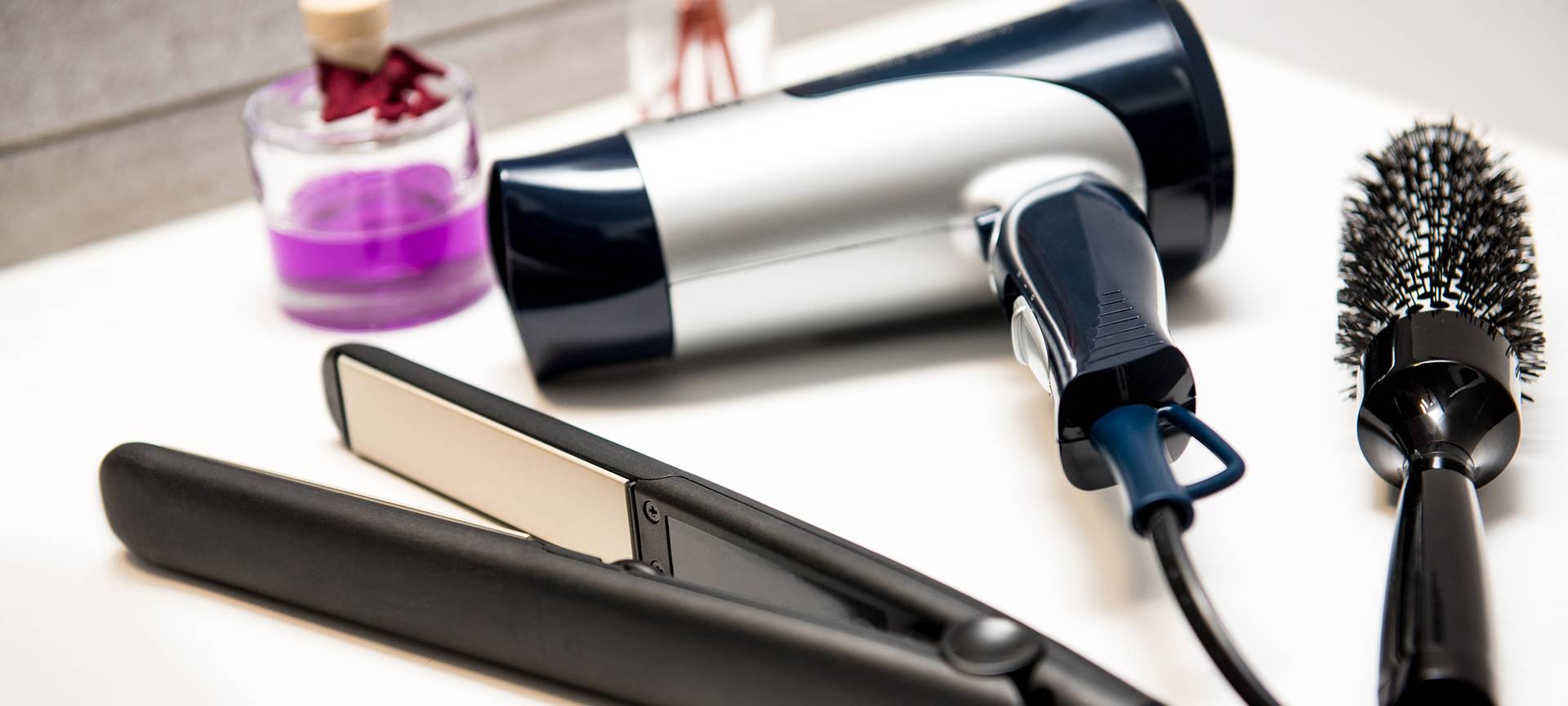 Naturals commonly use heat styling tools like blow dryers, flat irons, and curling wands to switch up the look of their hair. Because these tools rely on heat, they're able to momentarily alter the texture of your hair. Heat tools can help you achieve a straighter look or more defined curls. In this article, we will discuss the pros and cons of using heat on natural hair, as well as provide the information you need to ensure the safe and healthy use of heat styling tools.
The Pros of Using Heat on Natural Hair
Versatile Styling Options:
Using heat on natural hair allows for a number of versatile styling options that can transform your look. Heat styling tools can be used to straighten, curl, or create waves, offering endless possibilities for styling your natural hair.
One of the benefits of using heat on natural hair is that the results are temporary. If you have second thoughts about your straightened hair or want to return to your natural curls, you can simply wash your hair to restore its original state. This flexibility allows you to experiment with different looks without committing to a permanent change.
For individuals with extremely thick or tightly coiled hair, using heat can make it more manageable. Heat styling tools can help stretch out the hair, making it easier to style and manage overall. Furthermore, heat can help you achieve a sleeker and more polished appearance.
Heat styling can significantly reduce the time needed for hairstyling. Compared to heatless techniques of styling hair, using heat can provide quicker and better results. This is particularly useful for people with a busy lifestyle or limited time for haircare routines.
The Cons of Using Heat on Natural Hair
One of the primary concerns with using heat on natural hair is the potential for heat damage. Excessive heat can lead to dryness, brittleness, breakage, and split ends. Prolonged or frequent use of heat styling tools without proper precautions can cause irreversible damage, affecting the health and hindering the growth of your natural hair.
Using heat regularly can lead to over-dependency. Some of us become reliant on heat styling tools, often neglecting other protective hairstyles or techniques that promote the health of natural hair. Over time, this reliance can weaken the hair structure and inhibiting its ability to grow and thrive.
Heat can alter the natural curl pattern of your hair, particularly if used at high temperatures or without proper heat protectant products. Continuous use of heat styling tools can cause the curls to become looser, reducing the natural texture and bounce of your hair.
Potential for Burns and Injuries:
Using heat styling tools at high temperatures can pose a risk of burns and injuries to the scalp, ears, or fingers. Accidental contact with the hot surfaces or poor handling of heat tools can lead to painful burns. It is crucial to exercise caution when using heat on natural hair.
Tips for Safe Heat Styling on Natural Hair
Use Heat Protectant Products:
Before subjecting your natural hair to heat styling tools, it is essential to apply a heat protectant product. Heat protectants create a barrier between your hair and heat, reducing the potential damage caused by high temperatures. Look for heat protectants containing ingredients like silicone or dimethicone, which can provide a protective layer on the hair shaft.
Natural ingredients like aloe vera and shea butter are also able to form a protective layer around your strands. Our 2in1 Sapphire Deep Conditioner and Leave-In Treatment is made with a combination of the two; make sure to apply some to your strands before heat styling.
2. Adjust Heat Setting:
Always adjust the heat setting on your styling tools to match your hair's needs. Lower heat settings are generally recommended for natural hair to minimize damage. Be cautious and avoid using excessive heat that could potentially harm your hair.
3. Limit Frequency:
To protect the health of your natural hair, it is important to limit the frequency of heat styling. Avoid using heat on a regular basis, and allow your hair to rest and recover between styling sessions. Opt for protective hairstyles that require minimal heat or explore non-heat styling options to give your hair a break.
4. Regular Deep Conditioning:
Heat styling can strip moisture from your hair, making it susceptible to dryness and damage. To counteract this, incorporate regular deep conditioning treatments into your haircare routine. Deep conditioners can restore moisture, repair damage, and nourish your natural hair, helping to maintain its health while using heat.
Takeaway
Using heat on natural hair can offer exciting styling options and temporary transformations. However, it is crucial to be aware of the potential risks and take precautions to minimize damage. Remember to prioritize the well-being of your hair and indulge in occasional heat styling with care and consideration. Because you are a gem.