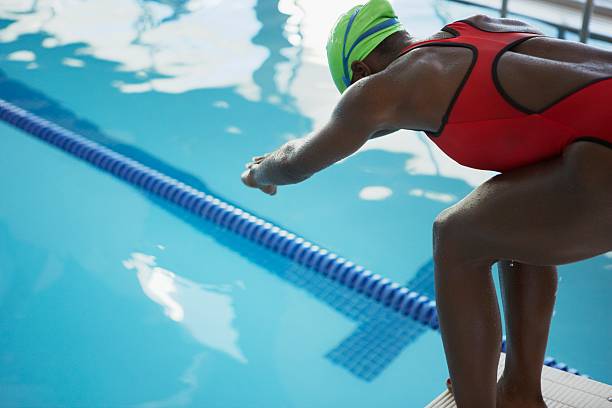 Swimming or your hair: you don't have to choose between the two.
Swimming can be a great way to cool down and load off stress. This water-based activity can even be a better way to exercise. Unfortunately, many naturals prefer to their distance from the water. Admittedly, swimming can wreck absolute havoc on your hair when you do it without taking some necessary before and after care steps.
While the chlorine in swimming pools keeps is there to keep you safe from microbes, it can be pretty damaging to your locks. Chlorine strips the natural oils(sebum) that your body produces to protect your hair. This can result in dry, brittle hair that's more prone to breakage.
With proper care however, you can avoid all this even after you take a dive in the pool. Here's your complete guide to swimming with natural hair.
Wear a protective style
It's not a good idea to have your hair out while swimming. Keep your strands protected and tips tucked away with a protective style like French braids, twists or even cornrows. Putting your hair in chunky twists or braids will make it easier to wash after your swim, without having to deal with so many tangles.
If you prefer styles with synthetic extensions, opt for those that won't give you too much trouble trying to fit under your swimming cap.
Use a quality swimming cap
Swimming caps have evolved over time, and you can now rely on one to keep your hair relatively dry the entire time you swim. As you shop for one, make sure it fits perfectly fits all your hair. You can always try on a cap to see if it's snug and secure before buying it.
Saturate your strands with water
If you're planning on getting into the water, it's best to drench your hair in some water. Usually there are showers around the pool for this. This way you can help it absorb less chlorine and other chemicals, since it's already soaked with fresher tap water.
Rinse your hair after
Once you get out of the pool, you'll want to immediately rinse out your hair with fresh water. This serves to remove any chemicals your hair might have absorbed from the pool water.
If you dry your hair after this, use a microfiber towel or a t-shirt. These materials don't have nearly as rough fibers as normal towels. Normal towels absorb too much of your hair's moisture, and the rough fibers could tug at your strands.
Additionally, try not to shampoo your hair every time you go swimming. Over-shampooing can strip your hair of its natural oils and cause it to become dry and brittle.
Condition, condition, condition
In every sense, conditioner is your best ally after a swim. After rinsing your hair, restore the moisture to your strands with a leave-in conditioner. Use our 2in1 Sapphire Deep Conditioner and Leave In Treatment to give your hair the moisture boost it needs. Gently comb the leave-in treatment through your strands using a wide toothed comb.
Seal in the moisture with your preferred natural like coconut or castor oil.
And even before, applying some conditioner to your strands can greatly ease detangling. Apply a coat of regular conditioner to your hair after saturating it with water. After this you can roll up your protective style into the swimming cap. After rinsing your hair post swim, you'll find that it's much easier to detangle.
If you swim multiple days a week, embrace deep conditioning. Use a deep conditioner at least once a week to maintain your hair's moisture levels.
Cleansing
If you're a regular swimmer, try not to shampoo your hair every time you go swimming. Over-shampooing can strip your hair of its natural oils and cause it to become dry and brittle.
Co-washing(washing your hair solely with conditioner) may be a better alternative to regular shampooing. Co-washing does not completely cleanse your hair, but it is a better alternative to shampooing it all the time.
If you co-wash on your swim days, be sure to use a clarifying at least once a month. Our Tsavorite Clarifying Shampoo is specifically designed to remove the product and general buildup on your hair that can result from swimming.
Focus on cleansing the scalp, and make sure your locks are completely rinsed with clean water after that.
Be gentle to your hair
If you're looking to start swimming, now isn't the time to subject your hair to chemical treatments like dyeing, relaxing or excess heat usage. Color/bleaching treatments make the hair weaker. Additionally, the chlorine in the pool may alter the color of your hair after dyeing it. Preserve your hair's strength by avoiding any harsh treatments.
Takeaway
You can swim with your natural hair. Swimming is no exemption for any natural. As you go to swim, follow these simple tips and you'll be good to go. And remember, you're a GEM.