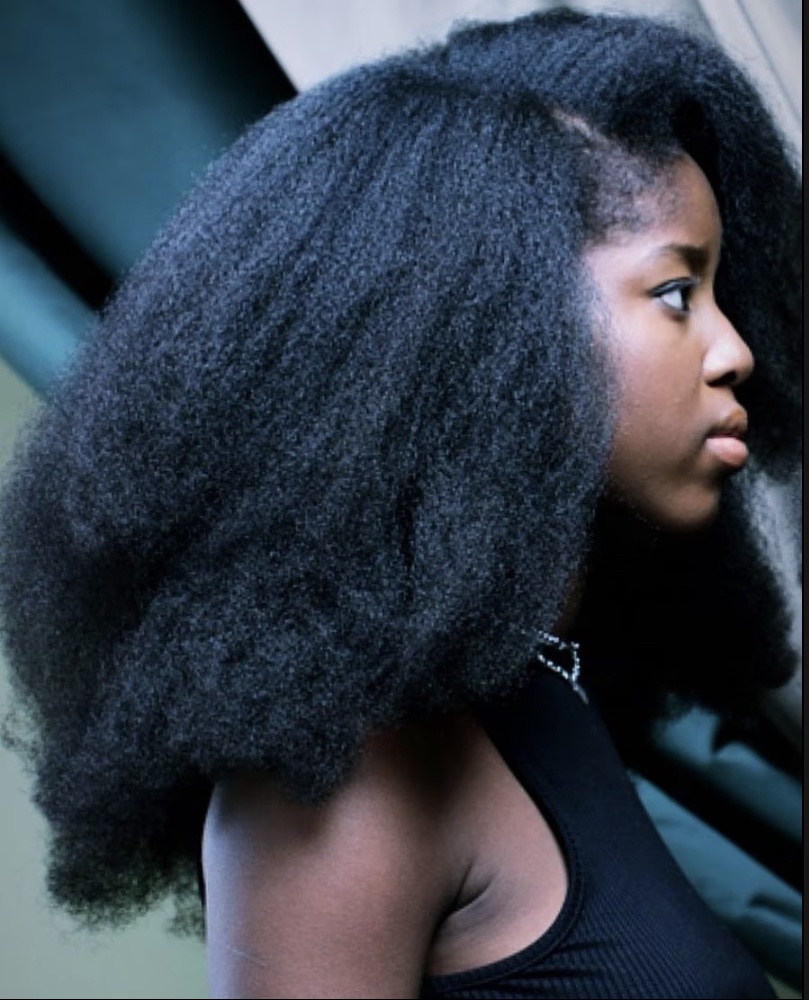 Our natural hair is beautiful and unique. However, achieving and maintaining healthy growth can be difficult due to all the myths and misconceptions out there. Sit tight as we debunk these common myths and show you how to achieve vibrant, thriving hair.

Myth 1: Frequently Cutting Your Hair Makes It Grow Faster
Fact: The idea that frequent haircuts stimulate rapid growth is a very common misconception. Hair growth occurs at the scalp, not at the ends. So constantly trimming your ends won't do anything to make your hair grow faster.
However, trimming your hair ends can play a crucial role in maintaining hair health. By trimming your ends when you notice split ends, you can prevent breakage and further damage to your strands, encouraging healthier hair growth.

Myth 2: Oiling Your Scalp Promotes Faster Growth

Fact: People looking to grow their hair faster often look to hair oils to do the trick. While oiling the scalp can help retain moisture and provide nourishment, it doesn't directly cause faster growth.
In reality, hair growth is influenced by factors like genetics, sex (male hair grows faster than female hair) and nutrition. Proper nutrition is fundamental to the health and growth of your hair.

Myth 3: Protective Styles Always Promote Hair Growth

Fact: Protective styles are warmly embraced by many naturals for the way they minimize hair manipulation and breakage.
However, it may be misleading to conclude that protective styles will always promote hair growth. The success of protective styles in promoting hair growth entirely depends on how they are installed and maintained.
Styles that are installed excessively tight or worn for extended periods can lead to hair loss and scalp damage.
Additionally, neglecting haircare practices like moisturizing during the time your protective style is in can lead to excess hair breakage instead of growth. Prioritizing hair care protective styling is essential to the healthy growth of your hair.

Myth 4: A Miracle Hair Product Will Make Your Hair Instantly Grow Faster

Fact: In as much as the haircare market is flooded with oils and serums that promise rapid hair growth, there's no solution that will give instant results.
Usually what these products do is enhance hair health to favor growth – not accelerate hair growth.
Achieving your hair length goals requires a holistic approach, including consistent proper haircare, and even proper nutrition.

Evidence-Backed Strategies for Healthy Hair Growth
Now that we've established fact from myth, sit tight as we explore evidence-backed strategies for promoting healthy hair growth.
1. Moisture
The importance of moisture for natural hair growth is widely supported by scientific and hair care industry knowledge. While it may be notorious for causing shrinkage, moisture is essential for healthy growth. Here's why:
Water content is vital for hair structure, strength and overall health.
The hair growth cycle includes a phase called anagen, which is the active growth phase. This phase is favored with adequate scalp and hair moisture.
Well-hydrated hair is well-shielded from breakage and damage.
A well moisturized scalp reduces the chances of conditions like dandruff which may tamper with healthy hair growth.
Generally, adequate moisture is essential for supporting healthy hair growth and preventing breakage. Regularly moisturize with a water-based moisturizer like our Tsavorite Spritz Moisturizer Hair Spray.
You can also incorporate moisture with products like leave-in conditioners. A leave-in conditioner gives the hair a moisture boost without weighing it down. If you're looking for one to try, we highly recommend our 2in1 Sapphire Deep Conditioner and Leave In Treatment.
2. Clean scalp
A clean and well-moisturized scalp sets the perfect stage for hair growth. Make sure to cleanse your scalp with a gentle, sulfate-free shampoo like our Sapphire Hair Shampoo every few weeks, depending on your hair state and individual needs.
The frequency with which you wash your hair may vary with your lifestyle. For instance if you work in a dusty area or exercise a lot, you may need to wash your hair more often.
Additionally, using natural oils like avocado oil or jojoba oil can help seal in the moisture on your scalp. Apply a natural oil after moisturizing your scalp to maintain proper moisture balance on your scalp.

3. Gentle Handling

Natural hair is delicate, especially for types like 4c, which is common with Africans. Hair practices like excessive manipulation (over combing and pulling), frequent heat styling, and harsh chemicals (hair bleaching and relaxing) lead to damage and breakage.
Treat your hair with care and gentleness by using wide-tooth combs, avoiding tight hairstyles, and limiting the use of heat styling tools.
Be gentle when detangling, and use conditioner, detangling sprays or even a mixture of oil and water to make the process smoother.

4. Low Tension Protective Styles

If you opt for protective styles such as braids, twists or cornrows, ensure they are installed by a skilled stylist who can minimize tension on your scalp and hair.
Styles that are too tight can lead to hair loss and damage. Communication with your stylist is essential to ensure comfort during the installation process.
Come by our Livara Family Salons to experience gentle skilled hands that won't leave your scalp crying for help.
6. Patience
Finally, it's important to understand that hair growth is a gradual process, like any other kind of growth.
Be consistent in your hair care routine and remain patient. The shoulder-long hair growth you're hoping for may not be immediately noticeable, but over time, you'll witness the results of your dedicated care and commitment.

Bottomline
Don't fall for hair growth myths and let them frustrate your natural hair journey. Give your hair the moisture it needs, cleanse your scalp, be gentle and opt for low tension protective styles, and be patient with your hair.
Remember, you are a gem. Treat your hair as such.