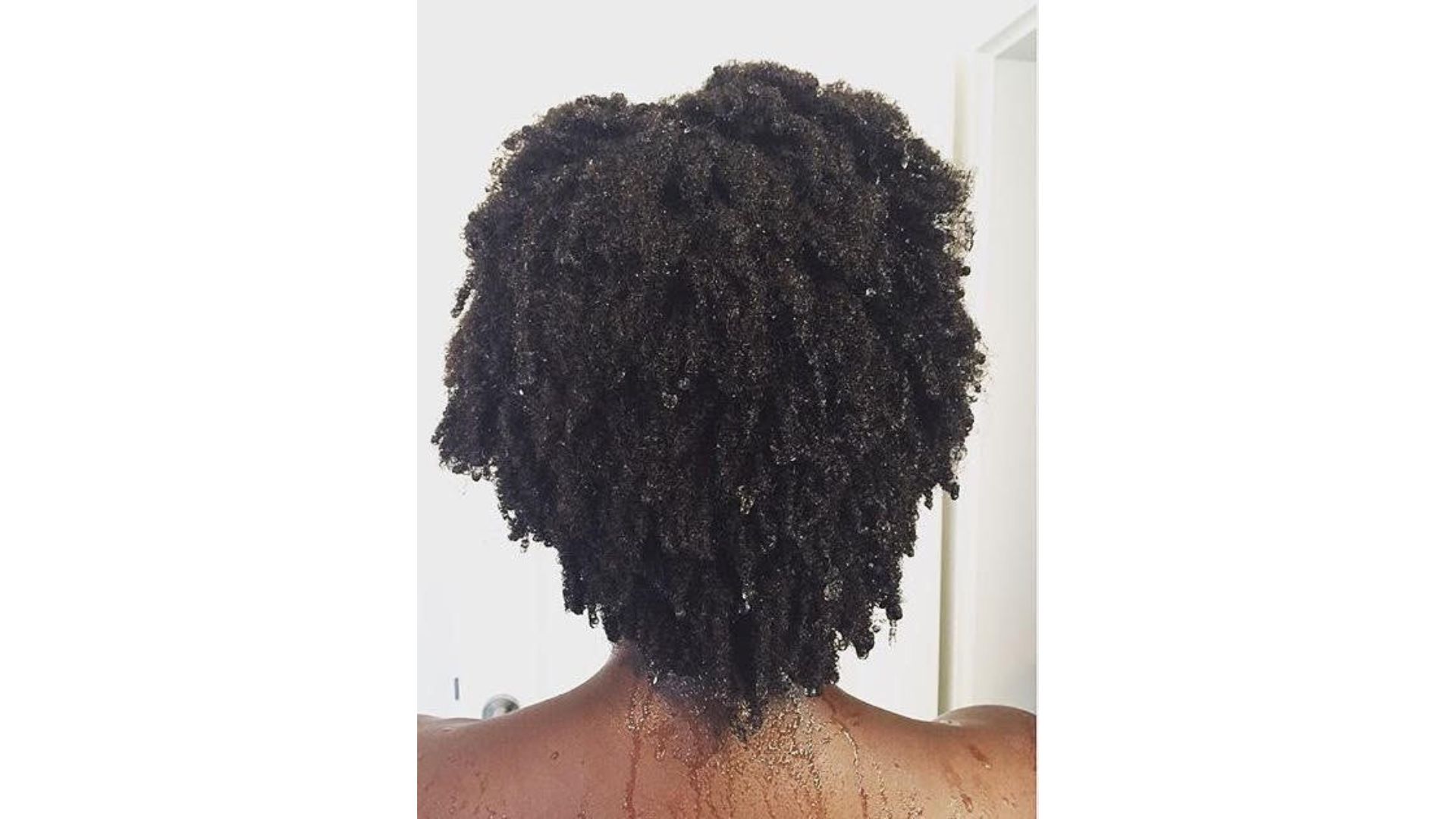 Do you struggle with products not easily absorbing into your hair? Does it take a while for your hair to get wet in the shower? You may have low-porosity hair, a common characteristic for those with curly hair types like 4C. Read on to find out more about low porosity hair, and how you can take care of yours.
What is Hair Porosity?
So, what exactly is hair porosity? Hair porosity refers to how well your hair absorbs and holds onto moisture and oils. There are three types of hair porosity: high, normal, and low.
High porosity hair easily absorbs moisture, but loses it just as quickly. Medium porosity hair absorbs and retains moisture well, and low porosity hair struggles to absorb moisture, causing it to sit on the surface of the hair instead of being absorbed.
While certain things can change our hair's porosity level, it typically becomes more porous, not less. Practices like constant heat styling can damage the cuticle, resulting in higher porosity hair. This can make it hard for the hair shaft to retain moisture.
How To Determine Your Hair Porosity
To determine your hair's porosity, wash your hair with a clarifying shampoo and perform the floating strand test.
Place a strand of your hair in clear glass of water:
If it floats on the top for a while before sinking toward the bottom of the glass, your hair has low porosity.
Hair that floats somewhere midway of the glass likely has medium porosity.
Finally, hair that sinks to the bottom of the glass fairly quickly is typically high porosity.
Low Porosity Hair
Low porosity hair is common with people with curly and coily hair. According to Healthline, the cuticles in low porosity hair tend to overlap each other and are tightly packed together. Since there are no spaces between the cuticles, it makes it harder for water, as well as products like oils and conditioners, to deliver moisture to the hair shaft.
Characteristics of low porosity hair
Water beads up and takes a while to absorb when you try to wet it
Hair products tend to sit on hair instead of being absorbed
Once your hair is wet, it takes a long time to air dry
How To Take Care of Low Porosity Hair
1. Apply products when hair is wet and warm
An important tip is to apply products when your hair is wet and warm. Heat can lift the hair cuticle, allowing oils and moisture to more easily penetrate the hair shaft.
For instance, use warm water to open up your cuticles before applying deep conditioner. Apply it to wet hair after rinsing with warm water, so your hair can better absorb the moisture from the conditioner.
You can also help deep conditioner better absorb by using a shower cap or specialized heat cap. A hair cap effectively generates heat, ensuring the cuticle stays open as the deep conditioner absorbs.
2. Steam Your Hair
The cuticle of your hair can be opened up by heating it with steam, which is another efficient method. Steam helps to open up the cuticles and allow products to penetrate the hair shaft more easily.
You can do this by using a steam cap, sitting under a steamer, or even just taking a hot shower before applying products.
At our Livara Family Salons, we offer steaming treatment services, so don't hesitate to pass by for one.
3. Use Lightweight Oils
Low porosity hair needs lightweight oils that can easily penetrate the hair cuticle. Some lightweight oils that work well include avocado oil, argan oil, jojoba oil, and sweet almond oil.
Heavier oils like coconut oil are considered ill-suited for low porosity hair as they can weigh it down. This can lead to buildup and clogged pores over time.
4. Opt For Water-Based Products
When looking for products for your low porosity hair, inspect the ingredient labels for water or aqua. If it is listed as the first or second ingredient, it will be a lightweight formula that will easily penetrate the cuticle.
Reach for our water-based Tsavorite Spritz Moisturizer Hair Spray when you're looking to nourish or soften your strands.
5. Use Products That Seal The Moisture In Your Hair
Since moisture often sits atop the hair shaft and takes a while to absorb in low porosity hair, focus on products that help keep moisture sealed into the hair.
Light oils are great for this, as well as natural hair butters like our Emerald Hair Food, made with pure shea butter and avocado oil, perfect for your low porosity hair.
6. Apply Product In Sections
When applying products, it's important to apply them in segments. Since your hair doesn't absorb products well, slathering on large amounts of conditioner, creams, and leave-ins won't allow you to reap the benefits of the product. Instead, take your time and gather your hair into sections.
7. Get Rid Of And Prevent Buildup
Due to its difficulty to take in water and hair treatments, products may accumulate on the surface, leading to buildup. Buildup can make it difficult for any additional product to penetrate the hair.
If you're already dealing with buildup, a clarifying shampoo can be very effective in getting rid of buildup.
To prevent regular build up, cleanse your hair with a moisturizing shampoo like our Sapphire Hair Shampoo. You can also do regular Apple Cider Vinegar rinses to loosen any buildup and cleanse your hair.
8. Beware of Protein Treatments
It may help to avoid protein treatments as these may not absorb well into low porosity hair. The protein may accumulate on the hair's surface, stiffening it and further limiting the amount of moisture that can enter.
Generally, protein treatments for low porosity hair aren't recommended. Instead of making your hair stronger, they may make it even more prone to breakage.
9. Sleep On A Silk Pillowcase or With A Satin Bonnet
While this may be common knowledge, it's especially important to do this if you have low porosity hair. Sleeping on fabrics like cotton may suck all the moisture from your already low porosity hair.
Keep that precious moisture your hair has absorbed intact by sleeping on a silk pillowcase or with a satin hair bonnet to bed. These materials offer a softer lining that can retain moisture throughout the night. 
The Bottom Line
Dealing with low porosity hair may seem like a challenge, but with these simple tips, you can keep your hair healthy and make it more manageable. Let us know your what your low porosity hair routine looks like along with any other tips in the comments below!