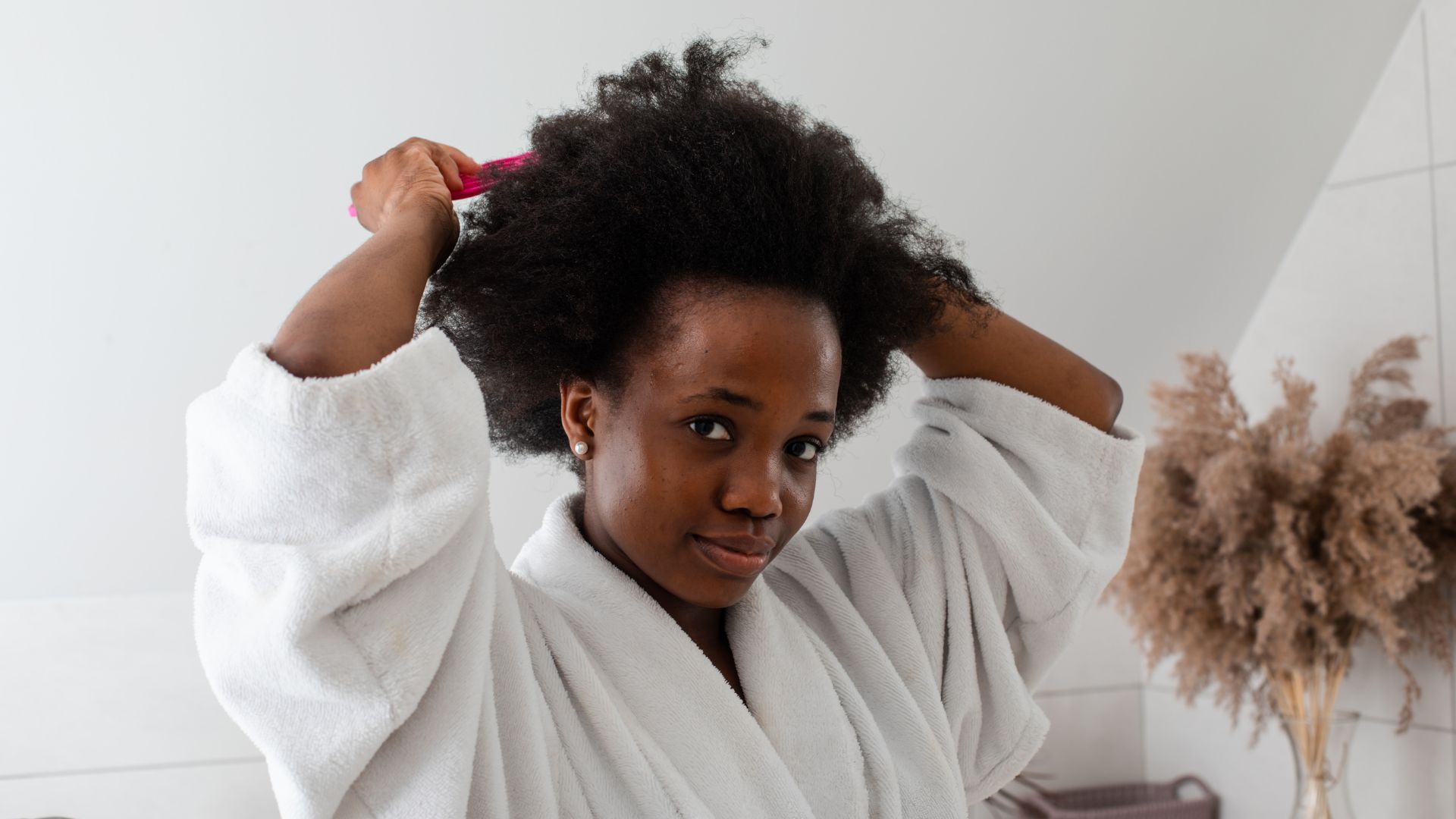 If you have 4C hair, knowing if it's healthy is crucial to understanding how you should take care of it. With the all the information out there, it can be overwhelming to know where to start. Luckily, there are five easy signs you can look out for to ensure that your 4c hair is in tip-top shape.
1. Shrinkage
The reduction in length of natural hair from when it's dry to when it's wet is what we refer to as shrinkage. Shrinkage can be frustrating, especially when you're trying to show off your hair length. However, shrinkage is an excellent indication of healthy hair.
When your hair is wet, it will reduce in volume(shrink up), revealing those tight beautiful curls. Hair that doesn't shrink may be damaged from practices like excessive heat styling or doing chemical hair treatments.
2. Elasticity
Elasticity refers to the hair's ability to stretch without breaking. If your 4c hair has good elasticity, it means it can withstand stretching, pulling, and manipulation without snapping easily.
To test the elasticity of your hair, take a small section and stretch it gently. If it stretches and bounces back without breaking, then your hair has good elasticity.
3. Normal Shedding
Shedding is a natural part of the hair growth process. As the hair grows, old hairs shed, making room for new ones. Every day, your hair goes through a natural shedding process, and losing up to 100 strands per day is considered normal.
Healthy 4c hair should shed within this range, but if you are experiencing excessive shedding, it could be a sign of a health issue. If you're shedding significantly more hair than usual, you may want to consult with a dermatologist to rule out any underlying medical issues.
4. Shine
4c hair has a reputation for being dull, but that doesn't have to be the case. If your hair has a natural sheen that reflects light even without oils or products being applied to it, that's a good sign. Dull hair can indicate a lack of moisture or damage from chemical treatments.
If your hair appears dull, it may be time to invest in a deep conditioning treatment like our Sapphire 2In1 Deep Conditioner and Leave-In Treatment, or a hair oil to restore moisture and add shine.
Our Tanzanite Hair Oil is made with light oils like avocado oil and castor oil to enhance shine while nourishing your strands.
5. Few to No Split Ends
Split ends occur when the hair cuticle is damaged and starts to split apart. This can occur due to damage or dryness. If you have healthy 4c hair, you'll notice that you have few to no split ends. You can help prevent split ends by keeping your hair moisturized, minimizing heat styling, and trimming your hair tips every 6 months.
Bottom Line
The signs discussed above can help you determine the health of your 4c hair. If you find that your hair is lacking in any of those areas, don't worry! You can elevate the health of your hair with proper hair care practices like moisturizing, protective styling, and regular trims.
Remember, consistency is key, and with the right products and practices, you can achieve healthy hair. And remember, you are a GEM.