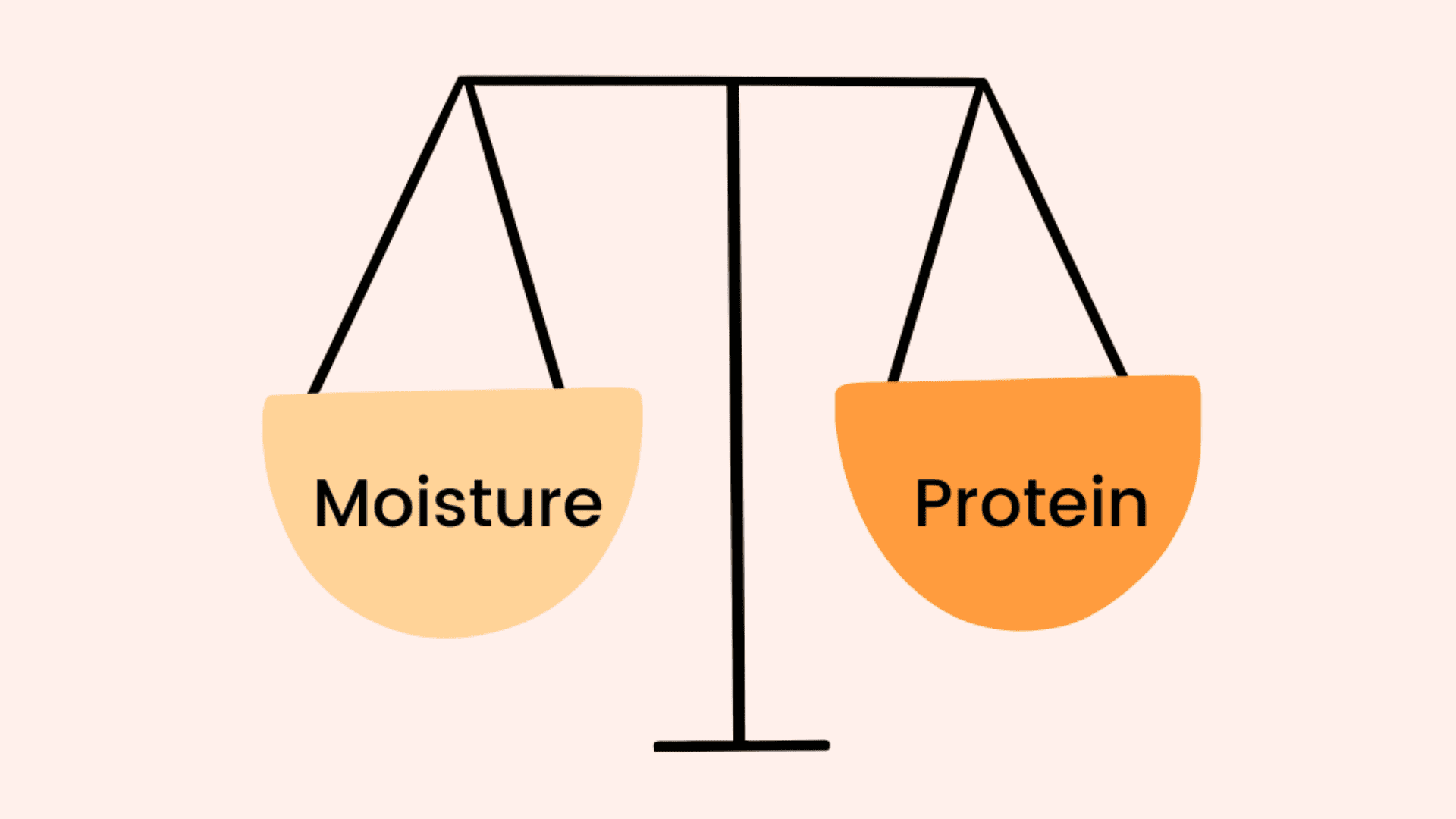 As much as we all love our hair, it can sometimes feel like it has a mind of its own. It's not uncommon for people to struggle with hair breakage, and while there are many factors that can contribute to it, protein and moisture imbalances are some of the most common culprits.
What is a Moisture-protein Balance?
Trichologist Precious Rutlin explains it as what your hair will have if it has the proper hydration, nutrients and strength to prevent breakage in your hair shaft.
To maintain strong and healthy hair, you need both moisture and protein.
How does an imbalance affect your hair?
When we talk about protein and moisture imbalances, what we're really referring to is the amount of each substance in our hair.
Hair fibers are made up of keratin, which is a protein. This protein gives our hair its strength, elasticity, and resilience. When there is too little protein in the hair, it can become weak and prone to breakage.
Conversely, when there is too much protein in the hair, it can become stiff, brittle, and also prone to breakage.
Moisture, on the other hand, is essential for maintaining hair health. It keeps our hair hydrated, flexible, and elastic.
When there is too little moisture in the hair, it can become dry, frizzy, and also prone to breakage. When there is too much moisture in the hair, it can become weak, mushy, and again prone to breakage.(hygral fatigued hair).
Why Your Hair Needs a Moisture-protein Balance
A moisture-protein balance is necessary regardless of your hair type. If any one of the two are lacking, an imbalance is created. By fixing that imbalance, you can enjoy healthy strong strands, and less breakage.
Moisture and protein treatments are especially necessary if you're someone that frequently heat styles their hair, permanently dyes hair or subjects it to harsh chemicals like hair bleach. Such hair practices can be damaging to the protein that's naturally existent in your hair.
Improper Use of Products
If you're someone that doesn't color or heat style their hair at all, your protein needs are far less than someone who does. Don't make the mistake of using protein treatments when your hair doesn't need it. Your hair will thank you by becoming stiff and brittle from the protein overload you're giving it.
Rice Water Rinses?
Rice water contains a reasonable amount of protein, so it can be considered a protein treatment. A rice water rinse can give your hair a protein boost, but using it frequently can cause a protein overload.
According to Mielle Organics, low porosity hair(doesn't easily absorb product) can especially suffer from frequent use of rice water. The protein from the rice water will attach to your hair instead of being absorbed. On top of preventing the penetration of other hair products, the protein hardens with time, resulting in dry and brittle hair.
This doesn't mean you shouldn't use rice water altogether – the key is in moderation.
How to fix a protein overload
Should you realize that your hair has become brittle and stiff from a protein overload, worry not. You can use a clarifying shampoo to help remove the excess protein. If you were wondering how you can use our Tsavorite Clarifying Hair Treatment Shampoo, here's one of the ways you can.
So it's important for you to pay attention to your hair. There's no reason to subject your hair to weekly protein treatments, especially if you don't manipulate it with heat or color treatments. In fact, you may never need to use these treatments, and for some, using them twice a year(every six months) can suffice.
How to tell protein and moisture products apart
To tell the difference between the two, simply pay attention to the labels. If the product is labelled with words like "restorative," "strengthening," or "rejuvenating," chances are it's protein rich. Protein treatments may also be labelled as keratin hair treatments.
Similarly, moisturizing hair products are denoted with labels like "moisturizing." You can find that label on our Sapphire Hair Shampoo.
How to restore the moisture-protein balance
Basing on what your hair appears to lack, you can incorporate the appropriate products to fix the problem. Get started on moisturizing products if your hair is moisture-deficient, same goes for protein-deficient hair.
For hair that's protein sensitive, consider following up your protein treatment with a deeply moisturizing conditioner.
If your hair generally lacks protein or moisture from all the heat and coloring, a leave-in conditioner can also rectify the imbalance. A weekly dose of our 2in1 Sapphire Deep Conditioner and Leave-In Treatment can bring your strands back to life.
Takeaway
A moisture-protein balance is necessary to maintain strong healthy strands. If you notice an imbalance, you can incorporate the right products and it can be fixed.
Careful not to overload your hair with protein through treatments like rice water. Likewise, don't over-moisturize – that can be a problem too.
As you navigate your way, don't forget, you are a GEM.